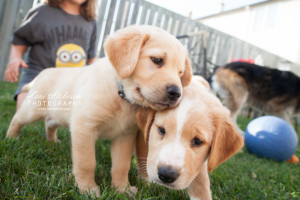 Application Process
Can I "try out" a dog/cat to see if they fits in with our family?
If within the first month of adoption you feel that you cannot keep the dog/cat, you will receive a refund of 50% of your adoption fee and we will take the dog/cat back into our care. After the first month, there will be no reimbursement of the adoption fee. We encourage all adoptive families to research and decide fully prior to adopting if they are truly ready to commit to adding a pet to their family. A pet is a big responsibly, can live 15+ years and requires vet visits, training, time and dedication. As well, adults and puppies/kitties have different needs so consider if your family is able to accommodate those specific needs. If you are having behavioural or training issues with your new pet we encourage you to contact us and we would be more than happy to help you through and support you.
If you are unsure if you are ready for a pet and want to try working one into your lifestyle, we really recommend looking into becoming a foster home. Fostering can be a great step towards adoption, many of our fosters end up "foster failing" and adopting one of their foster animals.
Can I adopt multiple puppies at a time?
No. To prevent Litter Mate Syndrome from developing in the animals, we do not permit adoption of multiple puppies. We require that if an adopter is looking to bring home a puppy, any resident dogs in their current home must be over 1 year of age.
Do you permit adoptions for outdoor cats?
No, for the safety and health of our cats, we do not permit adoptions where the cat will be allowed to roam outside unleashed.
We do however, have a Mutts Mousers program for homes that are looking to adopt outside only, feral cats that are not suitable for indoor living. Email
[email protected]
for information on that program.
Do you permit adoptions where the dog will be kept outside?
 No,  due to a variety of risks, we do not permit adoptions when the intention is to keep the dog outside unsupervised when home alone
How do I get started and what steps are involved in adopting?
The first step is to complete the Adoption Application , including references for us to contact.  When you have been pre-approved, we will provide the foster homes contact information in which you are asked to schedule a meeting within 24 hours.  The foster can answer detailed questions about the adoptable you're interested in.  After meeting an adoptable, you are asked to let us know within 24 hours if you will be adopting them.  We handle adoptions on a first come first served basis and will move onto the next adopter after this time.  Our adoption process takes 2-3 days on average to complete.
If you decide to adopt, we require a signed copy of the adoption contract (provided in your approval email) and the adoption fee payment. Adults can go home right away and puppies/kittens can go home when they are 8 weeks old. For adult dogs we ask that you bring a leash and collar when you pick them up, so the current one can be used for the next dog in care. Vetting covered under the adoption fee which is not completed by the time of adoption will be scheduled by the rescue and you will be notified by email. If you are having issues with your new furry family member, our group offers support should you have questions about transitioning your new pet into your family or any concerns which come up along the way. Please understand that it does take some time for your new pet to transition into your home and feel comfortable.
I am from out of the province, can I still adopt? Will you ship the animal to me?
MMDR is happy to adopt to people living outside of Manitoba but there are a few more items that we require from you. As we are not able to do a home visit we ask that you please send photos of the residence where the animal will be living. Yard, containment and sleep area photos are appreciated. We are also not able to cover any vetting once you've taken your new family member home but we're happy to reimburse $100 of the adoption fee once proof of shots and spay/neuter (required) are provided. That being said, we'll also require a vet reference.
MMDR requires that you come to meet the adoptable at their foster home in Winnipeg and surrounding areas. All COVID guidelines must be followed regarding travel into Manitoba. If not vaccinated, 10 days of isolation and no symptoms or if vaccinated then proof of vaccination is required. It's important to note that we will not place a hold an adoptable for the 10 days of isolation.
We WILL NOT ship an animal and we do not have the resources to transport them to you or meet half way. We apologize for any inconvenience this may cause.
I applied for a dog/cat and was told that there is already another family interested; how do you handle multiple applications?
We somewhat work on a first come, first served basis. The first applicant received for an adoptable will be processed and if the application is approved the adopter is given 24 hours to arrange a meeting. If they choose not to adopt we move on to the next application. If the applicant is found to not be the right home for an animal, such as if the adoptable requires a home without cats and the applicant has cats, or if the adoptable requires a fenced yard and the applicant does not have one, those applicants would be denied for that specific adoptable, and we would move to the next applicant.
I live with my parents; can I still adopt?
We require that an applicant be 18 or over to adopt. If you are over 18 and live with your parents we require confirmation that they are aware and supportive of an animal being added to their household.
I see an animal I want to adopt but cannot take it home right now. Can I adopt now and have the foster hold the animal until then?
Once an application has been approved, the expectation is that you will be proceeding with the adoption. We do not hold adoptables for any period of time. Each time an animal is adopted we make room for a new one, and we will not turn away other applicants in favour of someone who asks we hold the animal for several weeks or months.
My current dog is not spayed or neutered, can I still adopt?
We do still permit adoptions, however to prevent any future litters being created by our animals, we can only adopt out spayed or neutered animals to a home with an unaltered animal.
The animal I was interested in was adopted but I was already approved to adopt; do you keep my application on file if I see another animal I'd like to adopt?
We keep all approvals on file for up to 1 year. If you are on a waiting list for a certain adoptable and do not get a chance to meet them, you are pre-approved to adopt with us at any time (unless the animal requires a specific living environment, has specific needs, etc.)
We are looking for a farm dog; do you adopt dogs to rural families?
We are happy to try our best to find a dog that's the right fit for any situation, and process all applications on a case by case basis. Unfortunately due to the varying of all our dogs in care, we may not always have the match required for each type of home at the time.
We do not have a fenced yard, can we still adopt?
We will not adopt a dog to family that plans to chain or tether their dog unsupervised. We require the dogs be taken out on a leash for bathroom breaks, or be completely supervised when tethered, if you do not have a fence. It is important to educate yourself on the dangers of chaining.
What do I need to bring with when meeting the animal I'm considering adopting?
When you receive your approval email, our adoptions team will send you the adoption contract and options for electronic payment. When you meet the adoptable and you decided to adopt, use the docusign feature (instructions will be included in the approval email) to send the signed contract to the adoptions team. Payment can be made by etransfer ([email protected]) or by PayPal ([email protected]) If you are adopting an adult dog, please also bring your own leash and collar – the current collar and leash should be left with the foster home for their next foster dog. If you are adopting a cat or kitten, please bring a kennel for transport.
In the case of puppies/kittens not yet ready to leave their mother or litter mates, payment is due when you have met and chosen your pet. In order to hold the animal until they are ready to go at 8 weeks we require you to submit the signed adoption contract via the docusign feature to [email protected] and electronic payment via etransfer or PayPal.
What is included in the adoption fee?
An adoption fee includes a health check, parvo/distemper (dogs) or FVRCP/FeLV (cats) vaccines (2 for adults and 3 for puppies/kittens), 3 rounds of deworming, spay or neuter at six months of age, rabies vaccine and tattoo. A Heartworm/Lyme test for all dogs 1 year or older or an FIV/Leuk test for cats over 6 months old at intake. Plus a 6 week trial of Pet Secure Pet Insurance. It also includes any vetting the animal receives while in our care, including surgeries.
Where are you located? Can I come and meet a bunch of adoptables at once?
We are 100% foster based, meaning all of our adoptables are in peoples homes. We require that you be pre-approved to adopt with us before meeting our animals for this reason; it is a safe guard for our volunteers who foster the animals in their homes. Once you are approved to adopt with us, you are given the contact information of the foster family/families of the adoptables you are interested in, and at which time you can arrange a meeting. If you do not wish to go through the approval process before meeting an adoptable, you can always attend one of our adoption fairs. Be advised that we cannot guarantee which adoptables will be at each adoption fair.
Where do I find the application form and adoption contract?
Only the Adoption Application is found on our website. The adoption contract will be sent to you when you receive your approval email. The application form is what you use to apply to adopt an animal; the adoption contract is the paperwork you sign to actually adopt the animal.
Why do you ask for references?
We are 100% foster based, so all of our adoptables are in people's homes. We call references to not only see if you'd be a suitable adopter, but also to safeguard our foster families so we know we're keeping them safe. We ALWAYS call references, but don't worry, we won't interrogate them – we ask a few basic questions and it only takes a few minutes.