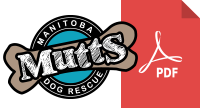 MMDRAdoptionContract
In order to be considered for an adoption you must:
Be 18 years of age.
Have the knowledge and consent of all adults living in your household.
Understand that completing this application does not guarantee adoption, and that the Manitoba Mutts Rescue Inc. must approve your application.
All current animals must be spayed/neutered and up to date with vaccinations.
If you are not approved for a specific dog/cat we encourage you to apply for another dog/cat that may better suit your lifestyle.
Adoption Application Form
note: All fields labeled with an asterisk (*) are required.