Super Troopers:
Every now and then there are dogs that come in to Manitoba Mutts care that are special cases. Dogs who have been hit by cars, suffer from Heartworm or other life threatening diseases, and other serious cases needing our help to get better and to be given a second chance in life.
We call these dogs our Super Troopers. Follow their stories, share, donate.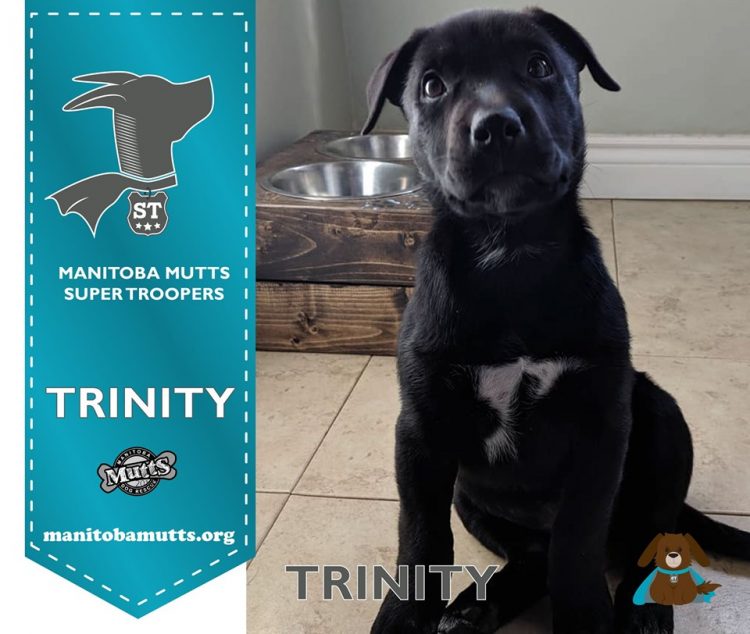 As of last week it has been confirmed that Trinity has healed well enough that the Veterinary team is convinced she will live a happy, healthy life without the necessity of surgery! This means that her costs are greatly reduced and she is no longer a member of the elite Super Troopers! BUT THIS IS GOOD NEWS!
Trinity has an old fracture in her leg that appears to be healing well but the doctors are slightly concerned that her growth plate might be damaged. It can result in a deformity in the leg and will cause chronic pain if it is not surgically corrected. She is still too young to know if this is the case or not for her, so we are going to have to continue doing x-rays every few weeks until she is fully grown in order to determine if she needs surgery or not. Our friends at Southglen Vet are handling the x-rays and the monitoring her progress. Will keep you updated on her progress!
Estimated costs: $549.55
Funds raised: $210

If you'd like to help Trinity please go tohttps://manitobamutts.org/
how-to-help/donate and include a note with her name so that your generosity goes directly to her care
---
Super Trooper In Memoriam
---
Super Trooper Alumni