Congratulations! Welcome to the MMDR family! You're part of a growing group of over 1,000 families who have adopted dogs and/or cats from MMDR. Here are some common questions you may have now that you're the new owners of a furry four-legged (sometimes three-legged) family member.
You will find information ranging from what to feed your pet, vetting policies, receiving paperwork, health issues to watch for and when you can take your new puppy (if applicable) for walks and playdates with other dogs.
What do I need to bring with when meeting the animal I'm considering adopting?
When you arrange a meeting with the foster family please bring a copy of your application (that you filled out online), as well as the adoption contract (available to print off online). Also please bring your payment in the form of cheque or money order. If you would prefer, you can pay online using Paypal. If you wish to adopt, please also bring your own leash and collar – the current collar and leash should be left with the foster home for their next foster dog.
In the case of puppies not yet ready to leave their mother, payment is due after 6 weeks when you have met and chosen your puppy. In order to hold the puppy until he/she is ready to go at 8 weeks we require you leave the payment as well as adoption contract and form with the foster family at that time.
What should I expect from my new dog/puppy after we bring him/her home?
Please take the time to properly introduce your dog to his/her new home as well as any other potential animals he/she will be living with. It can take animals 4-6 weeks to settle into their new environment, so be patient.  Do not leave pets unsupervised until you are 100% trusting of them.
Housebreaking, the fun part! No young pup comes housetrained, it's one of the most frustrating parts of bringing home a new pup, but it really doesn't take too long if you're committed. Bring the new pup outside every hour and when you catch him doing his business outside reward him greatly with pets, love, and treats. Never punish a puppy for doing his business in house, it will just make him scared of doing his business in front of you and confuse him. If you catch him doing his business inside, simply say no, bring him outside and if he finishes outside reward him.
NO puppy is completely housetrained. There will be accidents. The same is true when bringing a completely housetrained dog into a new environment. They may have accidents. Expect that.
How do I introduce my new dog/puppy to existing furry family members?
It's best to introduce your new dog/puppy slowly to any pets you currently have in the home. Coming to a new environment can be stressful for all pets, in which unexpected behaviours can occur. Do not leave them unsupervised until you are 100% trusting of all pets. Understand that adding a second dog to your family can be stressful, and like adding a second child, they may not always get along. Don't get discouraged.
Can I contact MMDR for advice and questions with my new dog?
We are here to help you; you are never alone. If you have concerns about your dog's behaviour or need suggestions on how to deal with certain behaviour, please contact us. We want to help dog owners to prevent dogs from coming back into care. We do not offer free training, but make recommendations on how to deal with the issues/concerns you are having.

Can I take my dog for walks and to the dog park right away?
Until your dog is FULLY VACCINATED please avoid taking your dog off your property – no walks, and definitely no dog park. Also avoid contact with dogs that are not up to date on vaccinations. Puppies will be fully vaccinated after 3 rounds of shots (6 weeks, 9 weeks and 13 weeks). If you adopt an adult dog, please make sure to inquire if he/she is up to date on shots as most of our adults come in without any vetting and will require 2 vaccines to be fully protected.
When will I receive my paperwork?
We email your adoption contract and vetting paperwork as soon as it is all entered into our database. We hope to have it to you within 2 weeks of your adoption. following your two week adoption trial.  Paperwork is not provided earlier in case the dog does not work out and is returned.
What should I feed my puppy?
When you bring your puppy home we will provide a small bag of the puppy food they are currently eating to mix in with the new food you decide to feed them. This will help transition their tummies to their new diet. There are many types of dog food out there and we ask that everyone do their research before deciding on their dogs diet.
Firstly, make sure puppies are kept on puppy food until they are 1 year of age. Puppy food is specially formulated for their growing bodies.
Secondly, consider the brand of dog food. Grocery store pet foods contain mostly fillers and do not offer proper nutrition to your dog. Buying a higher quality dog food where proteins are the first ingredient will actually save you money in the end as dogs eat less (and poop less) and also require less vet visits. On top of this, proper nutrition will give them a healthier coat and less shedding. We really recommend our adopters to go to a pet store and talk to one of their employees about the food they are going to feed their pet.
Does my puppy have all of his/her shots?
Adults receive 2 sets of shots 4 weeks apart. Puppies receive 3 sets of puppy shots – at 6 weeks, 9 weeks and 13 weeks. We use vaccine clinics for these shots and you will be notified via e-mail when it is time for your puppy to go get his/her next shot.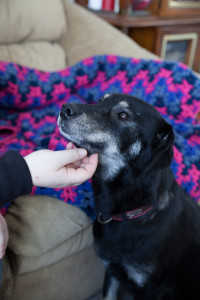 When does my puppy get spayed/neutered?
Puppies are altered between 6-8 months. If you adopt a puppy before it's surgery you will be notified via email regarding the procedure date. Because we have so many dogs in our care we usually cannot accommodate special time requests, unless there is an extenuating circumstance (ie. Dog going into heat early, adopted to an out of town family, etc.).
Please note at times we have many litters of puppies in at once and surgeries are booked very tightly – we spay the females first to ensure they do not go into heat. If you have any concerns you can contact our Spay/Neuter coordinator at [email protected].
Can I use my own vet?
We have a few vets that we work with exclusively and they offer us discounted rates so we can keep running. We have no issues with you using your own vet, but because we use vaccination clinics with volunteers to administer shots, we cannot reimburse any costs. In regards to spay/neuter we will reimburse $100 after we are provided proof that the procedure has been done.
Will my pups tail be docked, ears be cropped and dew claws removed?
No, At MMDR we DO NOT believe in unnecessary surgical procedures. Tail docking is the amputation of a puppy's tail to suit a desired appearance. It serves no function in a family and is quite painful for the puppy. Ear docking is now illegal in our province. Dewclaws are often removed for a desired look as well. Occasionally dew claws will hang too far from the leg and cause issues for the dog and in these cases they will be removed. There are many resources that explain these procedures and are worth reading – tail docking.
My puppy is sick – has diarrhea, is passing worms, etc. What should I do?
It is very stressful on a puppies body to move to a new home, with new surroundings, new people, new routine and away from their mom and siblings. On top of all of this a switch in their diet is also very hard on their little tummies. We will provide you with a small bag of the food your puppy is currently eating to mix with their new food to slowly transition them. Please understand that almost all puppies will go through a period where they are adjusting. During this time their stools will be runny and their energy level may be a little low. This is all normal. Try mixing a little canned pumpkin (pure pumpkin, not pumpkin pie filling) with their food to firm up their stools. IF your puppy starts to become lethargic or has blood in their stools, please contact us so we can assist you and arrange a vet visit with one of our vets.
All of our puppies are dewormed at the time of each of their shots. ALL puppies have worms. Deworming simply helps them pass the worms out of their systems. Worms in their stool is normal and although gross, a good sign. Don't be alarmed. Again, if there is blood in the stool or the worms are continuing for a long period of time please let us know.
My puppy is itchy, what do I do?
If you find your puppy is scratching a lot please consider the following things first. It's collar. If your puppy is constantly scratching at his/her collar/neck he or she is probably just getting used to wearing a collar around their neck. This is completely normal and almost every puppy experiences it. Give him/her time to get used to the collar. Second, dry skin. Many of our puppies come from not so nice conditions and experience dry skin or have been treated for lice. Make sure you are using a special shampoo for puppies that is gentle on their skin. Also make sure you have your puppy on a good quality diet. Grocery store brand dog foods are mostly fillers and do not provide proper nutrition to your dog. Buying a more expensive, better quality dog food from a pet store will actually save you money in the end. Dogs eat less of the food and often have fewer vet bills.