Age:

6 months, 6 days

(2022-09-26)

Sex: male
Breed: mixed
Size: large (50-80lbs)
Mutt-O-Meter:

No Children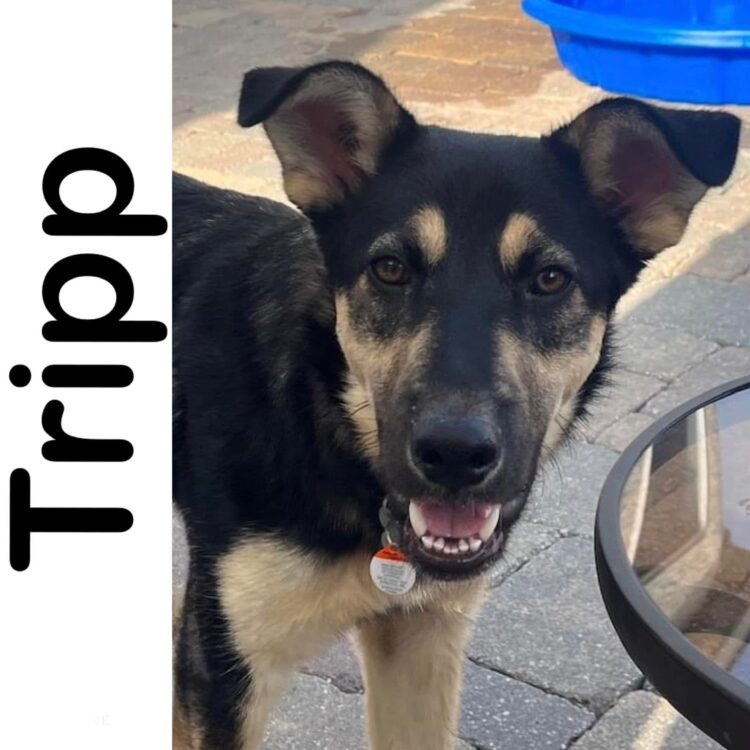 Hi, I'm Tripp! And what a trip I am! You got energy? Let's take a long walk/run/bike or ski…I'm ready for any adventure! You got the sleepies? I'm a great snoozer, and we can recharge our batteries together! You got a case of the blues? I will make you laugh with my big floppy feet and body that's growing faster than I can keep up with!
A little about me…I've been in foster care WAAAAAY too long now! I came in with my coat and skin a hot mess. But I've taken my time to grow out the most sleek coat, a healthy set of adult teeth, and am sure to continue being the handsomest boy around.
I am kennel trained, toilet trained, and all around pretty well-behaved for a strapping young lad learning his place in life! I am walking on a leash regularly and will benefit from going on daily walks in my forever home! I am doing well with basic commands…as a puppy, I can be forgetful when I'm excited. But be certain, I've got both the brawn AND the brains-I bet I can learn anything with the right teacher!
Right now, I spend my days with my canine foster sister, and we get along splendidly-I've taught her a thing or two about sharing over the past months, and she has taught me how to play and respect my elders! I would do best with a nice, slow introduction to kids (over 5 yrs please!) or smaller animals, as I have no clue how fast I'm growing and can be a bit clumsy and excited. I'm sure that with a little time and close adult supervision, I'll learn how to charm them too!
I'm so so excited to be adopted so I can keep learning and finding my groove in my forever home… Can't wait to meet you!
xoTripp
Apply here: https://manitobamutts.org/how-to-adopt/online-adoption-application/
or contact [email protected]