Age:

3 months, 30 days

(2022-12-02)

Sex: male
Breed: mixed
Size: large (50-80lbs)
Mutt-O-Meter:

No Restrictions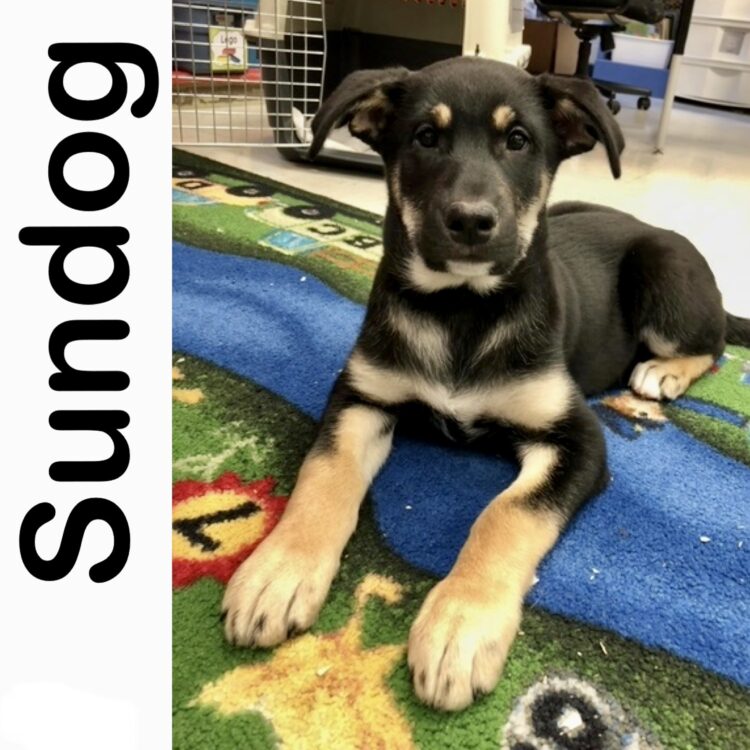 Hi! I am Sundog from the Skygazer litter. I am a sweet, curious boy who loves to cuddle.
My first foster mom said that I was very timid and quiet around my 8 other siblings (I was a bit overwhelmed as you could imagine!), but now with only 2 siblings, I have really come out of my shell.
I like to play with my puppy sisters, but I am not quite as rambunctious as they are. I am very interested in my senior foster sister and I try so hard to get her to play with me. I think I would like an older canine brother or sister. I was lucky to live with dog-savvy cats in my first foster home. I have not met any kids yet, but I think I would do fine with them as long as they can handle my puppy energy.
I am still too little to be kenneled all day, but I am learning about the kennel for short periods of time and while in the car.
I do my business on paper when left in the "puppy room" when my foster mom is at work, and when she puts me outside I go pee and poo in the yard too. I am even starting to go to the door when I need to use the bathroom, but of course, I still have some accidents.
I only have my first vaccine, so I have not been on walks yet, but I like to play outside (when it is not freezing out!)
The one thing I do that just melts my foster mom's heart is that when I am tired, I ask to come up on the couch and I will lay in her arms, get a belly rub and fall asleep.
If you are looking for a sweet cuddle bug then I am your pup!
Apply here: https://manitobamutts.org/how-to-adopt/online-adoption-application/
or contact [email protected]