Age:

3 months, 30 days

(2022-12-02)

Sex: male
Breed: mixed
Size: large (50-80lbs)
Mutt-O-Meter:

No Restrictions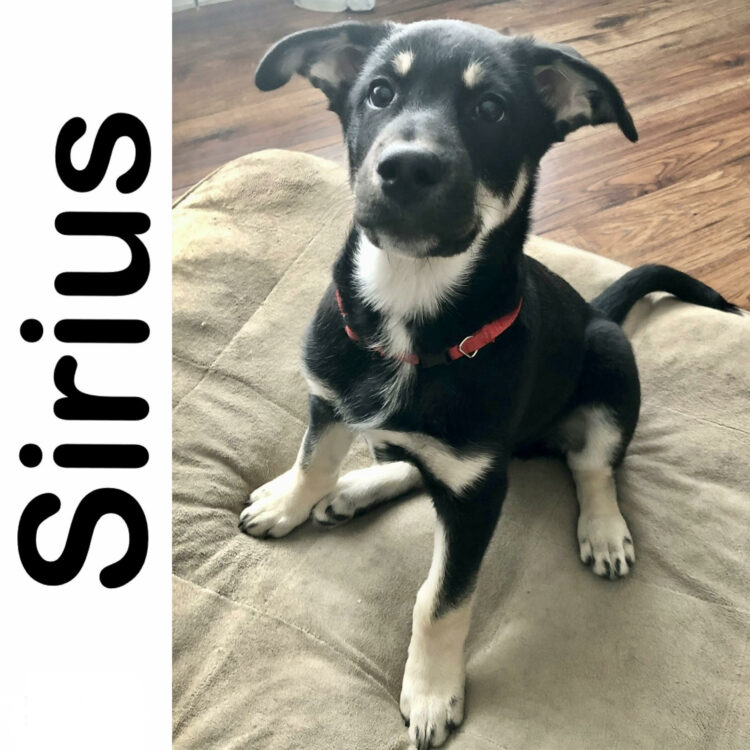 Hi there! My name is Sirius and I'm from the skygazer litter. I'm such a fun-loving, cuddly boy who loves to be the center of attention. I'm also a curious little troublemaker, always looking for new places or things to explore and very determined when I can't get to it. That includes exploring outside, where I love to run around in the snow with my sister and big foster brother.
I, as well as my 8 siblings, came into care with our mama Luna when we were mere days old. Now I'm a big healthy chunkster and still live with one of my sisters in my foster home as well as a big foster brother and two dog savvy cats.
That being said, I love dogs and would be great with a big sister or big brother in my new home. Cats are a different story… I love them, but they do not love me because I get a little too excited and like to jump all over them, so I would need some dog-savvy cat buddies or one that will put me in my place right from the start. I've only been close to kids once at a valentine's dance and I was a total sweetheart but I am a normal puppy who is a bit nippy and likes to pull the hair so just beware.
I am currently still working on housetraining but every day I get better! I do use the pee pads about 95% of the time when my foster moms don't notice my tells that I need to go out. I am completely crate trained though and go in willingly when it's bedtime! Also, I have not gone for any walks yet since I still only have one set of shots.
Anyone out there looking for a best friend who will follow you anywhere and keep you on your toes??
Apply here: https://manitobamutts.org/how-to-adopt/online-adoption-application/
or contact [email protected]