Age:

5 months, 27 days

(2022-10-05)

Sex: female
Breed: mixed
Size: large (50-80lbs)
Mutt-O-Meter:

No Restrictions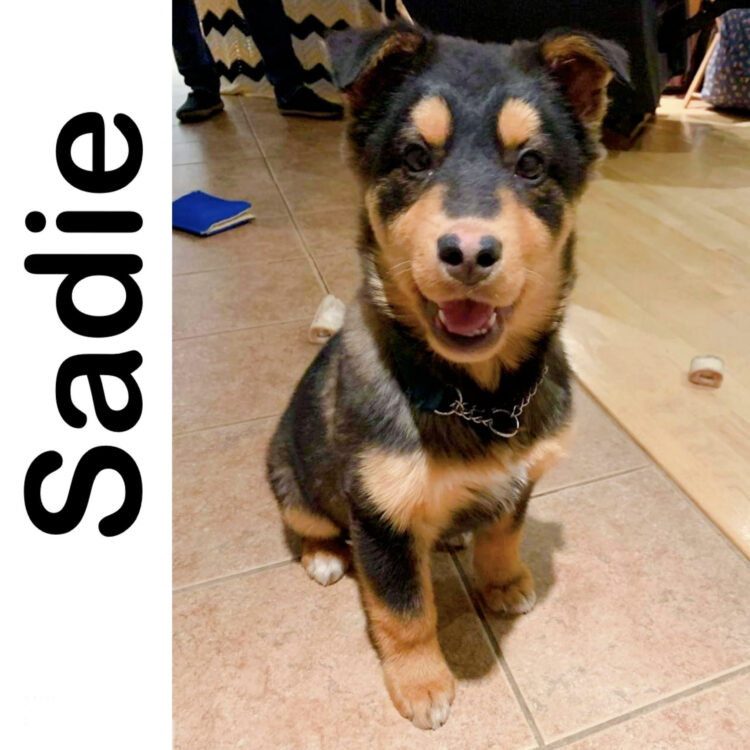 Hi – I'm Sadie!
Not to brag, but my foster mom says I am an amazing pup with a laid-back personality and that I'd make such a good furrever friend!
I love ALL my toys and can keep myself occupied with them for quite a while. I like to steal shoes but really, I just like to carry them to my bed – I haven't gotten into trouble chewing things so far. I like to be where the action is, but I just settle down and watch or snooze.
I am working on house training – I know what it means when mom lets me out and says 'get busy' but I'm not quite there to let her know when I need to go. I am learning VERY quickly and did ask once, so maybe soon! In the meantime, I get let out often and do my thing.
I am crate trained at night though I haven't learned to go in by myself. I sleep through the night and if I have to go into my kennel during the day, I will grumble a bit but settle down quickly.
I am good with other dogs but haven't met cats or kids yet. I don't have all my vaccines so I haven't been for walks yet. I can't wait to explore!
I am a gentle, sweet soft furball who learns very quickly (I love food) and would love to show off how fast I pick up things. I have learned to sit and wait (for my food dish – that was a tough one) and am working on down and drop it and come.
I would do well in a home with people or another dog around because I'm pretty social.
Will you take me home? I know my furrever friend is out there somewhere just waiting for some amazing puppy snuggles and antics.
Apply here: https://manitobamutts.org/how-to-adopt/online-adoption-application/
or contact [email protected]