Age:

3 years, 4 months

(2020-01-10)

Sex: female
Breed: mixed
Size: large (50-80lbs)
Mutt-O-Meter:

No Children

Requires Experienced Owner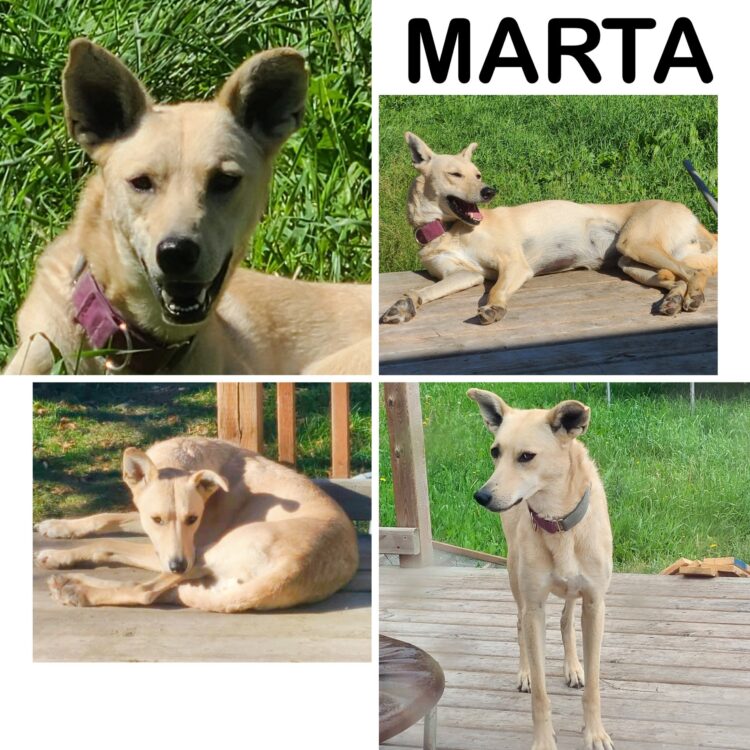 Hi, I'm Marta! I am a shy & sassy girl!
I love my personal space. My kennel is my favorite place to relax but I prefer the door open and will groan in displeasure when you close it.
I am fully housetrained. I would benefit from having another calm dog in the house; no puppies please. Apartment or condo living isn't a good fit for me.
I like the cats in my foster home but sometimes I need a reminder not to play so rough.
NO CHILDREN UNDER 10 PLEASE! I like my personal space and am slow to trust and the tiny humans are too fast and unpredictable for my liking.
I love going on walks but am still nervous on the leash.
I'm not high maintenance but I do have a couple of requests:
– A fenced-in yard is a must! I was bred for running and have a need for speed.
– A large kennel, please.
– And most importantly your patience.
Apply here: https://manitobamutts.org/how-to-adopt/online-adoption-application/
or contact [email protected]