Age:

3 months, 19 days

(2022-04-25)

Sex: male
Breed: mixed
Size: large (50-80lbs)
Mutt-O-Meter:

No Restrictions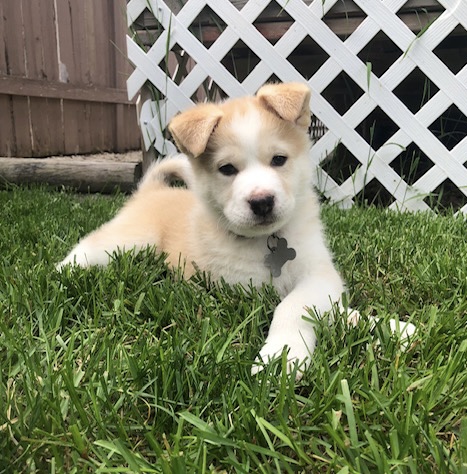 Hi. I am Jersey and I am part of the Cows litter. I am a handsome dude who loves to be the centre of attention! I am the most adventurous of my 3 brothers that I Iive with, as well as the biggest and most agile. I am also the nippiest, but I have been getting better with a firm "no" from my foster mom.
I am still young, so I am not fully housetrained yet. I will do my business outside if you take me out regularly, but I still have accidents too. I am having too much fun playing to stop and go outside.
I am not kennel trained yet because at night and when I am alone during the day I stay in the "puppy room" with my brothers. I have practice in the kennel when I go for a car ride or if my foster mom needs us contained for a little bit.
I like other dogs and try to get my older canine foster sister to play. Sometimes she needs to tell me to "buzz off" and I mostly listen. I haven't met any cats yet, but I am sure I will like them.
I love kids! My foster mom took me and my brothers to her grade 1 class and we had a blast. I got so mad when she put us in the kennel- I was barking my head off to be let out to play more!
I am energetic, fun-loving and feisty!
Are you looking for a new centre of your world!? I might be just the pup for you!
Apply here: https://manitobamutts.org/how-to-adopt/online-adoption-application/
or contact [email protected]