Age:

7 months, 19 days

(2022-08-13)

Sex: female
Breed: mixed
Size: large (50-80lbs)
Mutt-O-Meter:

No Restrictions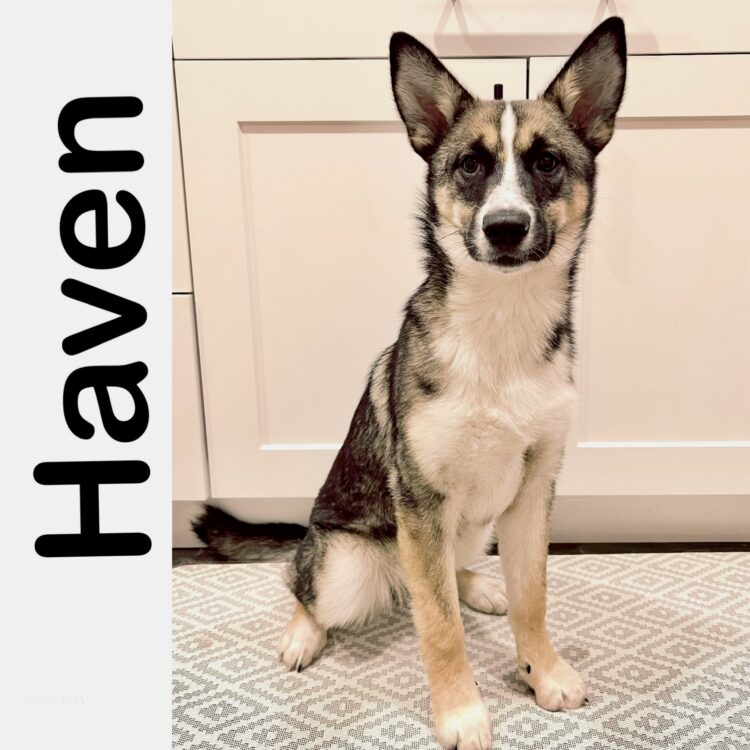 Oh hi there! My name is Haven!
I'm a sweet girl with just the right amount of spice. I may be small but I'm not afraid of anything, except for the vacuum. My foster mom would like to warn you that she thinks I'll forever be a lap dog, no matter what my size.
I'm fully house-trained, I've even started to let my foster family know when I need to go outside. I'm also fully kennel-trained and actually enjoy spending time there. I sleep in there all night and while my foster family is out of the house.
I'm great with other dogs, I actually live with another dog right now. I'm thankful she's taught me so much, and for our cuddle time! I haven't met any cats or young children yet but I think I will also like them.
I just started going on walks and boy do I love them! If you ask if I want to go I will run to the front door and wait for my harness to be put on. I will try and meet anyone we see on a walk, I just want to play!
I am still learning my manners when meeting new people and around food but I have already made great improvements since I came into care!
If you're looking for a faithful companion who loves to snuggle, I'm your girl 🙂
Apply here: https://manitobamutts.org/how-to-adopt/online-adoption-application/
or contact [email protected]