Age:

8 months, 29 days

(2020-08-16)

Sex: male
Breed: mixed
Size: large (50-80lbs)
Mutt-O-Meter:

No Children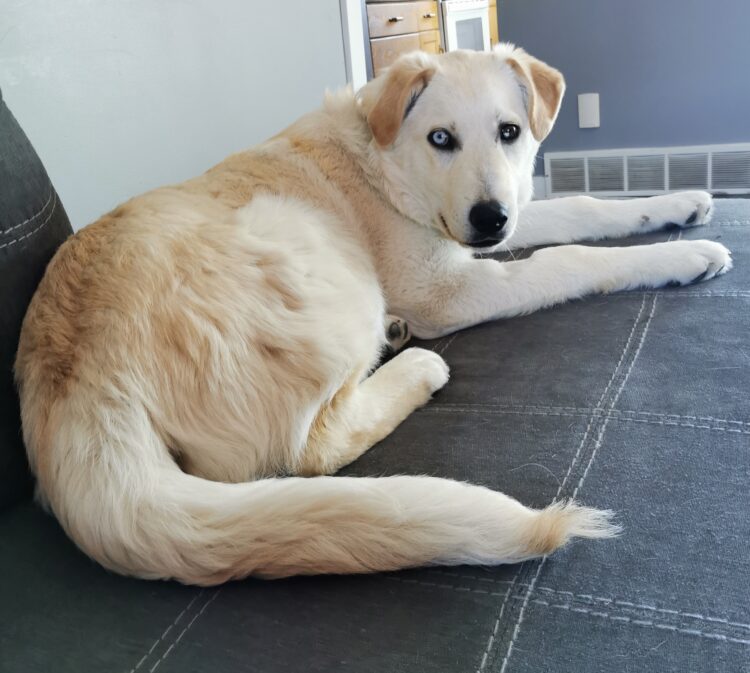 Hi, my name is Fionn! I am a smart, fluffy, lovable boy who enjoys cuddling with my foster humans and playing with my foster dog brother and sister.
I am still working a bit on housetraining, I have had a few accidents in the house but, I am learning quickly and getting really good at letting foster mom know when I need to go out. If you have a bit more patience with me I will be housetrained in no time! I am fully crate trained for bed and when my foster parents go out, I cry for a couple minutes but calm right down.
I am extremely energetic and good with ­other dogs. A new home with another pup for me to play with may be best, this way I can burn off some of my energy. Either that or an extremely active family would also work!
I am very food motivated and can be a bit protective over my food and treats at times. I can also be a bit nippy with clothes, and am working hard to break these habits with my foster parents. I am also working on not jumping on the counters, even though what foster mom and dad eat smells so much better than what I have. As soon as you say "OFF" I usually get down, a bit more time and practice with this and I will be good to go! Since I am a little unpredictable with my food and can be jumpy, it may be best if I live with kids older than 8 years old to keep everyone safe! I haven't met any cats yet, but my foster family thinks I would do great.
I LOVE going for walks and am really good with a leash and harness. My foster family has me stop and sit at every intersection and I'm doing great with that!
I am a charismatic boy who would love to keep you entertained with my rambunctious personality. Will you take me home?
Apply here: https://manitobamutts.org/how-to-adopt/online-adoption-application/
or contact [email protected]