Age:

3 months, 30 days

(2022-12-02)

Sex: female
Breed: mixed
Size: large (50-80lbs)
Mutt-O-Meter:

No Restrictions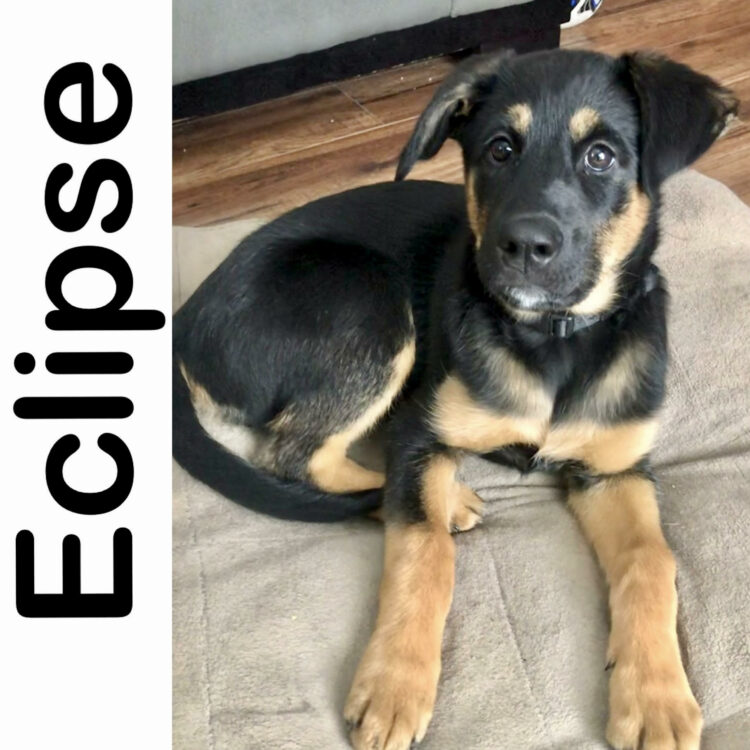 Hello, my name is Eclipse and I'm from the skygazer litter. I'm a little sweetheart who loves to give kisses with a few nibbles and play with squeaky toys all day long! I'm a little shy when it comes to meeting new people so I need a little time to warm up but when I do I will be all over you! I am certainly not shy with my brother and foster brother though and when I'm barked at I bark back full force with all the attitude in the world.
I as well as my 8 siblings came into care with our mama Luna when we were mere days old. Now I'm a big feisty girl who still lives with one of my brothers, a big foster brother and two dog-savvy cats.
I am great with dogs and worm my way into their hearts with my kisses and I honestly prefer them over humans, at least at first. I'm also good with cats as I'm pretty gentle and just tend to playfully bark at them to tell them to play with me! I have only been around kids once at a valentine's dance and it may have been a little overwhelming for me since I am on the shy side but I'm sure I would love some youngins to run around with and cuddle up to afterward.
I am still working on housetraining but I've gotten much better over the past few weeks and if you catch me sniffing around and ask if I need to go outside, I'll go straight to the door! If you don't catch my signs though, I do use the pee pads about 95% of the time. I'm also mostly crate trained, I do sleep in a kennel at night and go in when my foster moms aren't home but I tend to whine a bit and wake up a couple of times a night because I'd much rather be sleeping next to you. I also have not been on any walks yet since I've only had my first round of shots.
Do you need a gentle, loving soul in your life to keep you company and entertained?? Then I'm your girl!
Apply here: https://manitobamutts.org/how-to-adopt/online-adoption-application/
or contact [email protected]