Age:

1 year, 6 months

(2021-09-07)

Sex: male
Breed: mixed
Size: large (50-80lbs)
Mutt-O-Meter:

No Cats

No Children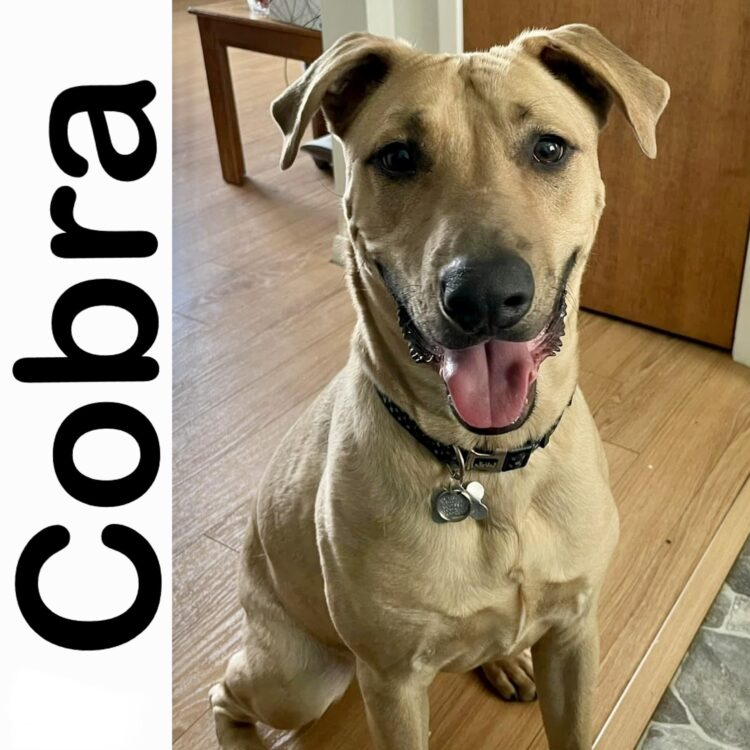 Hi! I'm Cobra!
I'm a playful boy who loves my toys, but I'm not the greatest at letting them go! But when I do, I will eagerly wait for you to throw it again, unless you tell me otherwise.
I am fully housetrained, and will go in my kennel with no problems! Foster momma leaves the door open during the day and sometimes she finds me having a nap in there! I will go in the kennel when I'm home alone, just so I don't get into trouble. When I have to potty, I will go to the back door and let out a little bark or whine to let you know.
I am good with kids, but I might be a bit too rambunctious for little ones so older kids may be a better fit. (kids over 8 years old may be best)
I tend to get a little excited during playtime and might knock over little ones.
I don't like cats though, because I want to chase and play with them and don't understand that not all cats are like that.
I love going for walks and do great with my harness. I love to sniff and explore, and want to say hi to everyone I see! I need to be reminded not to jump up when I say hello, but I'm getting better at it!
I am not suited to apartment or condo-style living. Also, a fully fenced yard is a must for me to help me burn some energy!
I'm a playful guy with lots of energy, and I do love my toys. I would thrive in a home with an active family who can help me burn up some energy! I will make you laugh with my goofy grin and playful antics. I also give good snuggles and kisses occasionally. Will you take a chance on me? You won't regret it.
Apply here: https://manitobamutts.org/how-to-adopt/online-adoption-application/
or contact [email protected]