Age:

3 months, 19 days

(2022-04-25)

Sex: female
Breed: mixed
Size: large (50-80lbs)
Mutt-O-Meter:

No Restrictions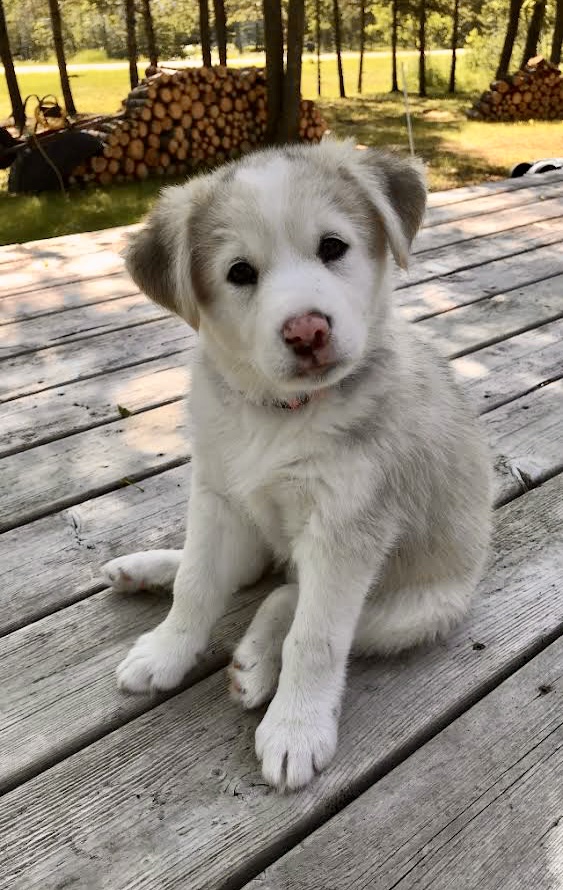 Hi! I am Charolais, one of the Cow Litter pups!
I'm a gorgeous energetic girl who loves to play with my siblings and exercise my dominance over them so I am quite feisty at times. I am not a fan of cuddling unless I'm really tired as I always got somewhere to go or someplace to be. I am a bit nippy because I'm teething but still working on that. I am very vocal when I am confined in a kennel or my room but do settle down and go to sleep.
I love my big older canine foster brother and respect him when he needs his distance away from us on those days he's not feeling well; also love to play with my 2 cat brothers but know to keep my distance when they are having a wild play session.
I am very much a people lover and like to be close by them so I don't wander too far in my unfenced yard and just clap and I'll come running when you want me to come in.
I am not kennel trained as we sleep together in our own room. I am not fully house trained yet but do well if you put me outside on a regular basis and getting better at using the paper when outdoors is not an option.
I'm a fun-loving determined adorable girl looking for an active family to call my own? Is that family you?
NOTE: my foster family lives in beautiful Gimli- please come meet me.
Apply here: https://manitobamutts.org/how-to-adopt/online-adoption-application/
or contact [email protected]