Age:

3 months, 24 days

(2023-08-07)

Sex: female
Breed: DSH
Size: small (0-30lbs)
Mutt-O-Meter:

No Restrictions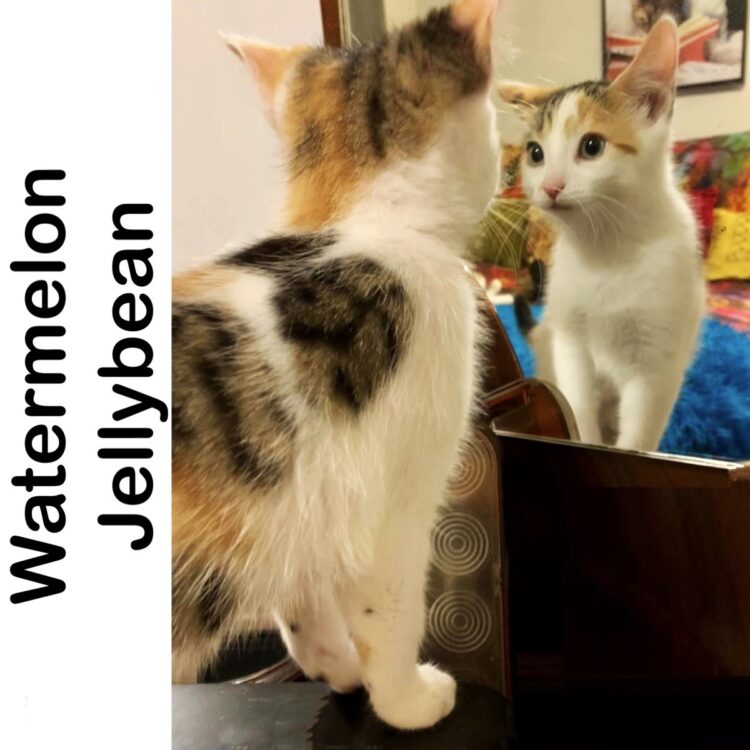 Hi. I'm Watermelon Jellybean and I'm the BIGGEST personality you will ever meet! If I were a famous person, think Bette Midler, and I'm just as colourful! If I had a theme song, it would be "Girls Run The World" by Beyonce. Are you starting to get the picture?! Everything is mine to discover, and I'll do anything to learn more about my world. I'm absolutely fearless and confident, a good trait in a lady, don't you agree?!
Playtime is all the time, but when I do crash, I want to cuddle either on your lap, or with other furry buds. I love having others to play with, but would do fine as an only cat as long as you promise to not only supply me with endless toys but to play with me too! I'm a really good jumper and I sit on my foster momma's shoulder when she's on the puter thing.
I'm a champ in the litter box, and I'm just learning to use a scratching post. My foster momma is trying to keep my nails manicured, but I've always got somewhere pressing to be, ya know? Kitten things to DO!
I've not met any dogs, but really, how bad could they be? I'm pretty sure I'd win them over too.
I'm told that I'm a typical, strong-willed Calico, just like my momma! But I'm pretty darn smart too, so that's a good combination if you ask me. Wouldn't you love to add me to your family? You could be my bestie, and I would be your superstar!
Apply here: https://manitobamutts.org/how-to-adopt/online-adoption-application/
or contact [email protected]