Age:

2 years, 1 month

(2020-12-08)

Sex: female
Breed: DSH
Size: small (0-30lbs)
Mutt-O-Meter:

No Children

No Other Animals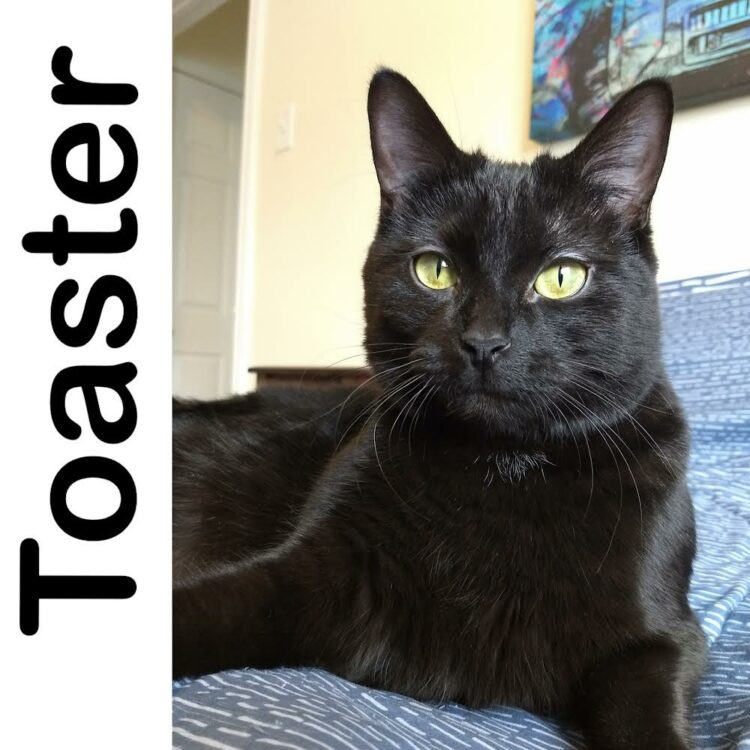 Hi! I'm Toaster, mama of the Brave Little Toaster litter!
My little ones have long since found their forever homes, and I am living my absolute best life as an empty nester. On a perfect day in my world, I make the rounds in my foster home, napping on a vast variety of surfaces. If I can coax someone into joining me, all the better! I am a world-class cuddler and my favourite napping surface is the lap, chest, or collarbone of any nearby human.
My other interests include scarfing down kibble, galloping up and down the hallway, and inexplicably dragging your underwear into the living room and placing it under the coffee table.
Have you been in the market for an elegant house panther like myself? I feel I've really got a lot to offer, not the least of which is my ability to make you laugh each and every day.
I love to play fetch with my weird little crocheted fish toy. If you throw it for me, I will fall all over myself charging after it, and sometimes I'll bring it back to you and drop it at your feet.
I will act pleasantly surprised to see you each time you walk into a room, giving a startled little meow and then staring at you until you come over and pet me.
There's not much I enjoy more than sitting on the windowsill chattering at birds. But I will turn my back on a bird without a second glance if I think a cuddle is on offer. No contest.
If you like to read in bed, I will insinuate myself between your face and your book and dramatically flop onto your chest, purring furiously. You will be 8% less efficient at reading because of me, but you won't mind at all because you will feel like the most beloved person on earth.
I've proven myself to be a bit of a grump around other cats in the past, but this may have been because I was protective of my kittens. I haven't lived with other pets since the kids left home, and it's possible that with a careful introduction, cat savvy pets could work in time. Or, maybe you're a one-and-done sort of a family that wants just a single, perfect beautiful creature to shower with all of your love and attention.
If so, that beautiful creature is ME! I'm fully-vaccinated, spayed, and thoroughly litter trained. All that's left is for you to take me home and love me!
Apply here: https://manitobamutts.org/how-to-adopt/online-adoption-application/
or contact [email protected]