Age:

2 years, 7 months

(2021-04-05)

Sex: female
Breed: DSH
Size: small (0-30lbs)
Mutt-O-Meter:

No Restrictions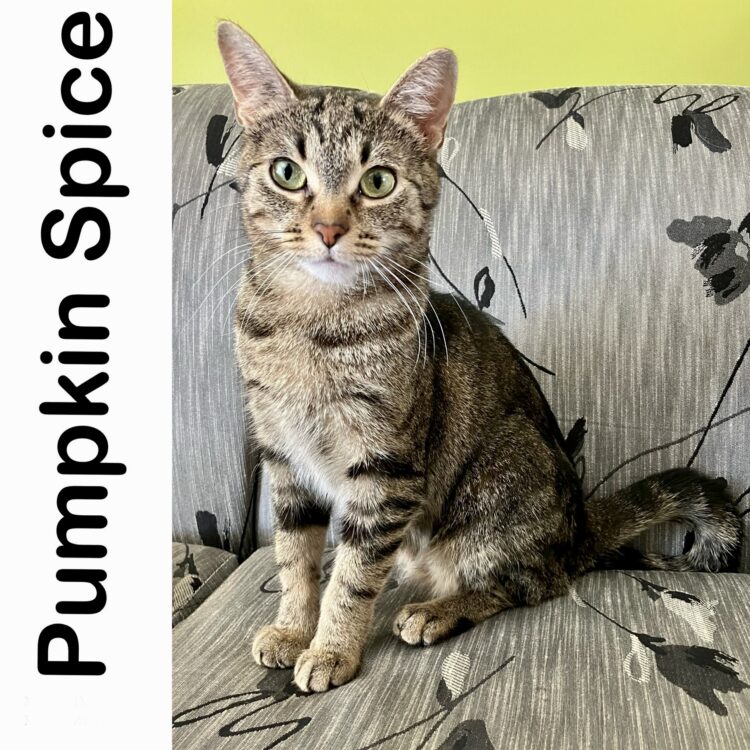 Hello! My name is Pumpkin Spice and I am the mama of the spice babies. They are all in their own homes now, and I am waiting for my purrfect family to find me.
Since the babies have left, my personality is really coming out! I love being up high. I am curious and lively, and always as close to the action as I can be. Foster mama says if I could talk, I would always be saying, 'watcha doin'?' And 'what's in there?' I love drinking from a faucet and waiting patiently until someone turns the tap on for me. I also love sitting beside people when they are on a couch and sleeping on their feet when they are in bed.
I get along perfectly with the dog here, and 2 of the 3 cats, but I'm not fond of one of the cats here. I'm sure I would be fine with children in the house-I've liked the ones I've met here.
Of course, my litter box habits are perfect, I use the scratching post, and I don't have too much trouble with the house rules here-you know, don't jump on the table or eat the plants.
Anyways, like I was saying, I'm waiting for my furever home with my very own lap to sit on, and feet to sleep on. Is it yours?
Apply here: https://manitobamutts.org/how-to-adopt/online-adoption-application/
or contact [email protected]