Age:

4 months, 28 days

(2022-07-11)

Sex: male
Breed: DSH
Size: small (0-30lbs)
Mutt-O-Meter:

No Restrictions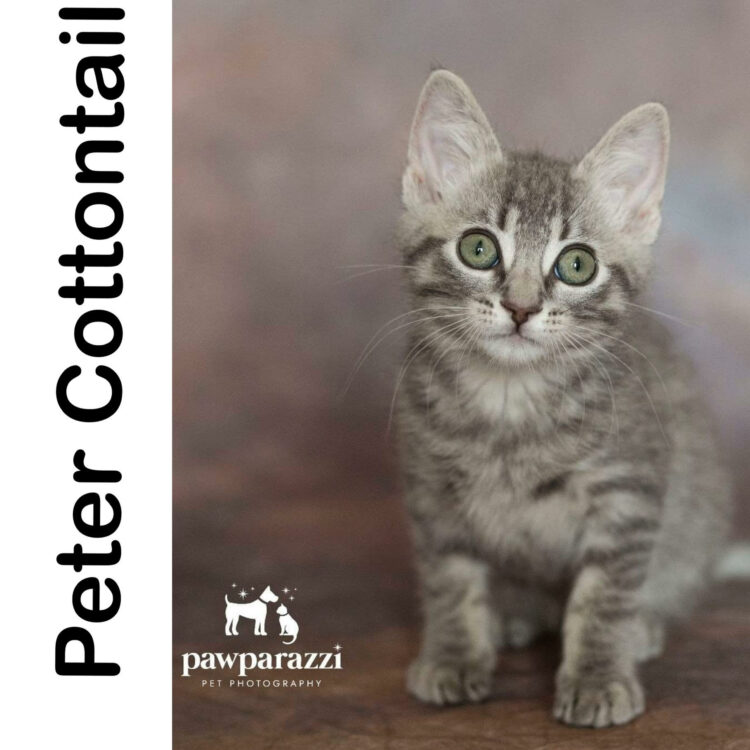 Hello, my name is Peter Cottontail!
I've always had very big ears, and I love bouncing on my back feet around your legs, asking for attention; so it turns out my name is perfect!
I'm a sensitive, needy boy; I love to purr, sleep beside you, or drape across your neck. I will make the tiniest, sad meows at your feet, which means I want a snack or I want to be carried around like the little baby I am. I love playing with slippers, your hair, my sister and other cats in the house, and plastic spring toys!
I am good with children, though I am still quite mouthy so you'll have to make sure there are toys nearby to use instead of hands! I haven't met any dogs but I'm very comfortable with new things, so will likely adapt quickly.
I'm an expert at using the litter box and scratching posts properly, although I do really like scratching at slippers when you're wearing them. I wasn't kidding when I said I love slippers!
If you agree that I'm the perfect addition to your family and slipper collection, why don't you arrange to meet me today?!
Apply here: https://manitobamutts.org/how-to-adopt/online-adoption-application/
or contact [email protected]