Age:

6 years, 9 months

(2016-08-20)

Sex: male
Breed: DSH
Size: small (0-30lbs)
Mutt-O-Meter:

No Restrictions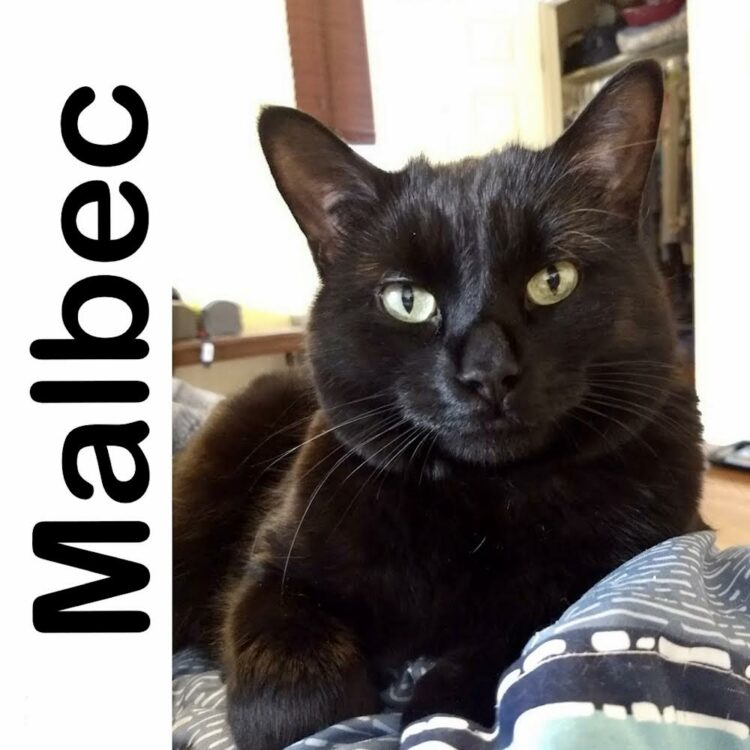 Have you ever looked at a bear and thought, "Man, what I wouldn't give for a pet bear!"
While it's illegal to keep bears as pets, I am pleased to inform you that you can have the next best thing: ME!
I'm Malbec, and I'm black and fuzzy, built like a bulldozer, and constantly eating everything in sight. I'm 17.5 pounds of sweetness and cuddles. Just like a bear! (Just kidding. Do not try to cuddle a bear.)
I was adopted from Manitoba Mutts as a kitten several years ago, but my owner is sadly no longer able to take care of me. So, I'm back! And looking again for my furever home.
I am easygoing verging on catatonic. I love napping, eating, napping again, and flopping onto my side in slow motion for a BIG STRETCH. I adore humans and I am happiest when I'm snuggled up beside one or curled up on their chest. If you've been meaning to get yourself a weighted blanket but can't justify the expense – no need! Just cover yourself in a regular blanket and I will climb aboard and lovingly crush the wind out of you.
I lived with another cat in my previous home so I should be a good team player if you have other pets. However, I may need a slow introduction. At the moment, there is one other kitty in my foster home and when she gets too close I hiss and curl into a ball in an attempt to disappear. I do want to make friends, but my life was a certain way for years and now things are different and I'm just a little overwhelmed.
I'm doing great with the litterbox; just remember to get me a roomy one! I cannot stress enough that I am the size of a small bus.
Are you in the market for a sweet, chonky boy who will love you forever? Are you up for the challenge of helping me to rein in my snacking and maybe get more than eight steps a day so I can live a long, healthy life? Do you like sitting down sometimes? And want some company while doing so? Well, I might just be the one for you!
Apply here: https://manitobamutts.org/how-to-adopt/online-adoption-application/
or contact [email protected]