Age:

7 months, 11 days

(2020-09-08)

Sex: female
Breed: DMH
Size: small (0-30lbs)
Mutt-O-Meter:

No Restrictions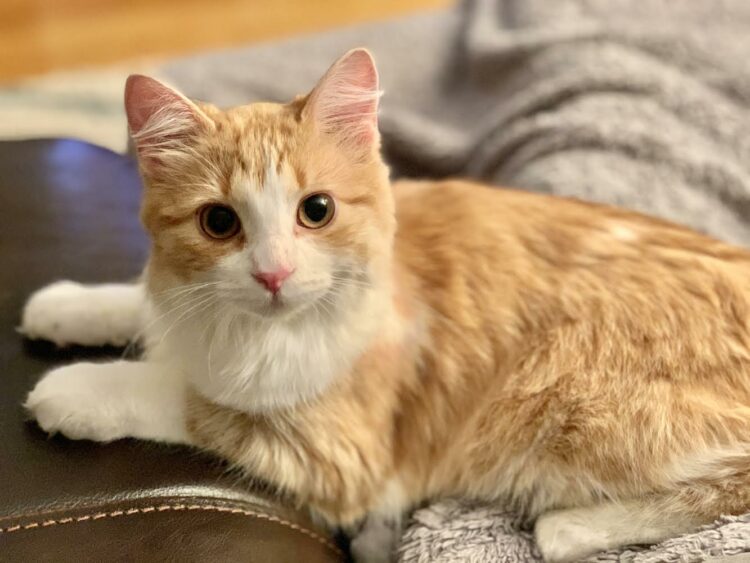 Hi there! My name is Jamie. I'm a very sweet, social girl with the silkiest soft coat. You'll get ample opportunity to feel it while we cuddle! One of my very favourite activities is snuggling up in my human's lap and getting pets. It's so relaxing, I sometimes start to drool… Please don't judge, I bet you drool sometimes too! I'll let you know how happy I am with my deafening purrs and cute little squeaky chattering.
My other favourite activity is playing! I'm still a kitten and I have lots of energy for it! Toy mice and catnip are my absolute favourite. Also anything with feathers. Or bells. Oh, and don't forget the laser toy! I'm still learning about fingers and toes but it's really easy to redirect me to an acceptable toy when I'm feeling playful.
When I first got to my foster home I was a little timid and had to go and hide for a few minutes when there were scary noises. But I immediately loved my foster parents and felt much braver when they were there to keep me safe. And even when I was scared, I was very gentle.
Now for the logistics: I'm excellent at using the litter box. I'm a good eater and not very picky. I haven't met any animals in this foster home but I used to live with a cat and even met a dog when I was smaller! I liked them a lot but they might get annoyed with me if they're not as playful as I am. Slow introductions are a must, as usual.
If you're in the market for a friendly, playful little cat, please come and meet me! I'd love to join your family!
Apply here: https://manitobamutts.org/how-to-adopt/online-adoption-application/
or contact [email protected]