Age:

4 months, 5 days

(2020-07-26)

Sex: male
Breed: DSH
Size: small (0-30lbs)
Mutt-O-Meter:

No Restrictions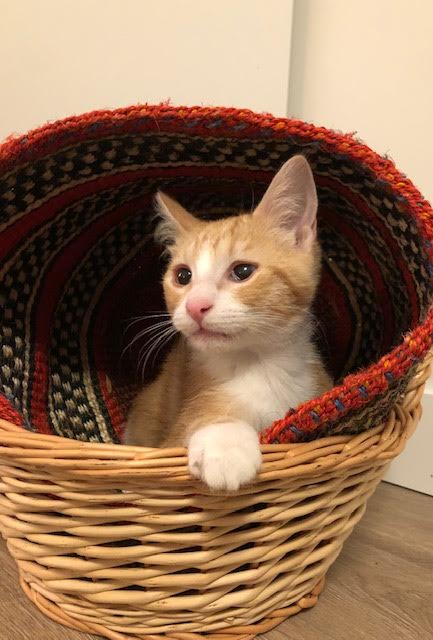 Hi!! I'm Grayson but more often called Lil'Gato.
My foster parents also call me Mr Trouble as I am a curious little boy… who may or may not like nibbling on fingers, climbing legs and pouncing on moving feet!
I came into care as a little tiny unwell kitten. I had some problems with my eyes and had everyone, including the Vet, thinking that I may be blind! But just kidding!! I overcame that issue and have grown into a wonderful, spunky, entertaining, adorable, snuggly, comical dude!!
I absolutely love sneak-attacking my cat foster brother, even though he has over 10 pounds on me!! Nothing stops me! Even his body slams which I am trying to master. When he has had enough of me, I love following my foster parents all over the house. I am a social guy so I like to be included in the action… sometimes I AM the action!!
I haven't met any kids but I know I'll like them cause I like everyone!! Dogs…. Not sure but I bet if they let me use their tail as a toy, we will be friends!!
If you are looking for a ginger cat to love, that's me!
I'm pretty awesome. (I hear my foster parents say it all the time!)