Age:

3 months, 16 days

(2022-08-23)

Sex: male
Breed: DSH
Size: small (0-30lbs)
Mutt-O-Meter:

No Restrictions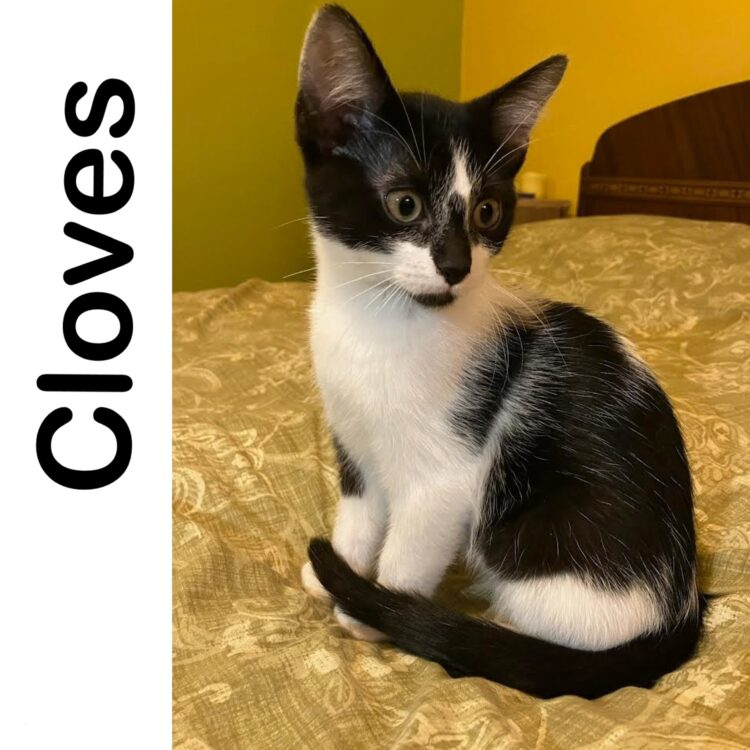 Hi!
My name is Cloves, from the Pumpkin Spice litter. I am a pretty calm little gentleman kitten.
My fur is very silky and I have the neatest markings, with my black nose and chin.
Foster mama says I'm very smart. When my water bowl is empty, I sit beside it and meow at her to remind her to fill it!
There is a dog and other cats here and I am not the slightest bit concerned about any of them, so I think I'd love a home with other pets, although I'd be ok with only human friends too. I'm pretty gentle for a kitten and good with my claws.
Of course, I always use the litter box for my business, and I quite enjoy my scratching post.
After I'm done with my silly kitten playing, I love to sleep on laps and I purr away until I fall asleep. Is that lap yours?
Apply here: https://manitobamutts.org/how-to-adopt/online-adoption-application/
or contact [email protected]