Age:

3 months, 6 days

(2022-09-03)

Sex: male
Breed: DSH
Size: small (0-30lbs)
Mutt-O-Meter:

No Restrictions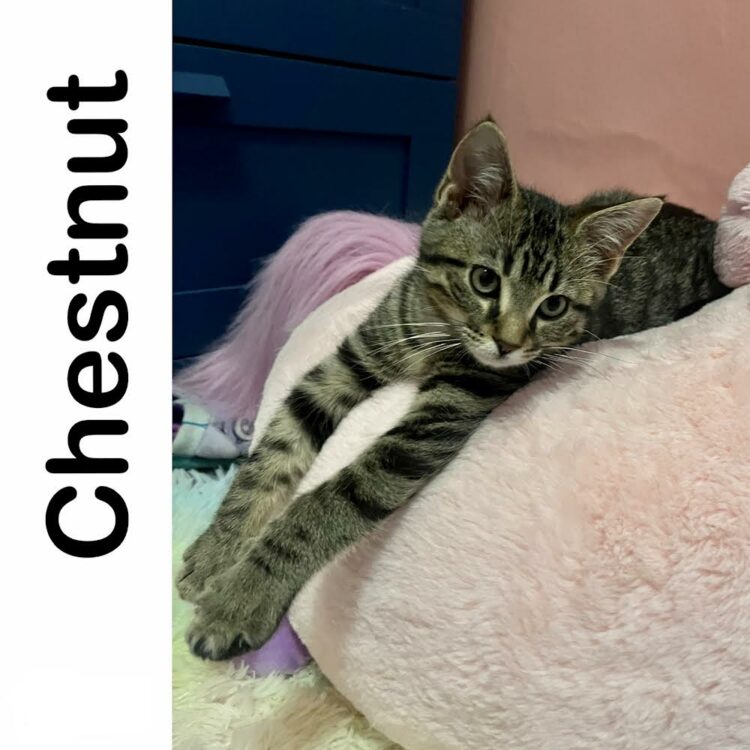 Hi, my name is Chestnut!
I am an active playful boy, I love playing with my tiny little sister and I always protect her from everything (I'm much bigger than her and she can hide behind me)! I'm a naughty boy who has figured out the art of climbing!
I do however once in a while take a break to snuggle up with my sister or snuggle up to my foster mom/dad. I LOVE sleeping on my foster mom's legs at night, it's my favourite spot and I also like keeping her feet warm!
I am fully litter-trained, I mastered that as soon as I became an indoor kitty!
I haven't had much exposure to other cats but I am quite interested in them and always try to play with them under the door in my foster home.
Dogs are very big and even though I'm much bigger than my sister, their size is still intimidating, I think if I got to know the one that respected my boundaries I would love them!
I also haven't had much exposure to kids but I think I would do just fine.
I love love love playing and am always doing the strangest things, if you're looking for a cute but funny boy who will always make you smile/laugh, I'm your guy!
Apply here: https://manitobamutts.org/how-to-adopt/online-adoption-application/
or contact [email protected]