Age:

3 months, 24 days

(2023-08-07)

Sex: male
Breed: DSH
Size: small (0-30lbs)
Mutt-O-Meter:

No Restrictions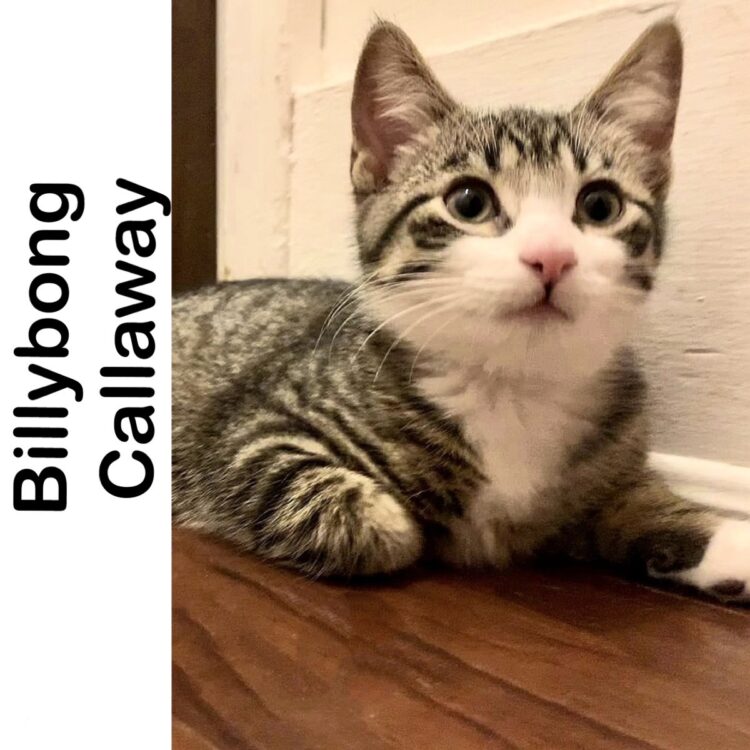 Yo Yo YO! I'm Billybong Callaway and I want to be your next best buddy!
I've never met a hooman I didn't like, even the real little ones, and everyone says I'm crazy friendly. As I'm still a little guy, I've got loads of energy and running zoomies with my siblings is the best thing ever, well, along with wrestling matches. I can run the fastest (even though sometimes I slide into things, I just say it's on purpose), catch the mostest toys, oh, and I'm very confident. Can you tell? I'm not afraid of anything and the world is mine to discover!
But I confess, I do love cuddling up, giving head boops, and getting belly-rubs. A guy has to rest sometime, am I right?
I'm fully litter trained, play well with all my siblings and even the big chonky resident cat. He's pretty scary but I think I've won him over. Maybe it's because my purr is louder than his. My foster mom says I'm really fierce too because I growl like a LION when I catch those darn mousies!
I've not met any doggos but I've seen them on Youtube! As long as they don't eat me, I think I'd like them too. I'm too busy playing to really want to use a scratching post, but I'm super smart and I could learn if you show me.
I'd like to have other fur friends, but would do just fine if I'm the only one. That just means more time for us to get to know each other. Everyone needs a tabby in their life at one time, could I be yours?
Apply here: https://manitobamutts.org/how-to-adopt/online-adoption-application/
or contact [email protected]