Age: 1 year (2018-03-30) | Sex: Male
Breed: Mixed | Size: L (50-80 lbs)
Mutt-O-Meter: BLUE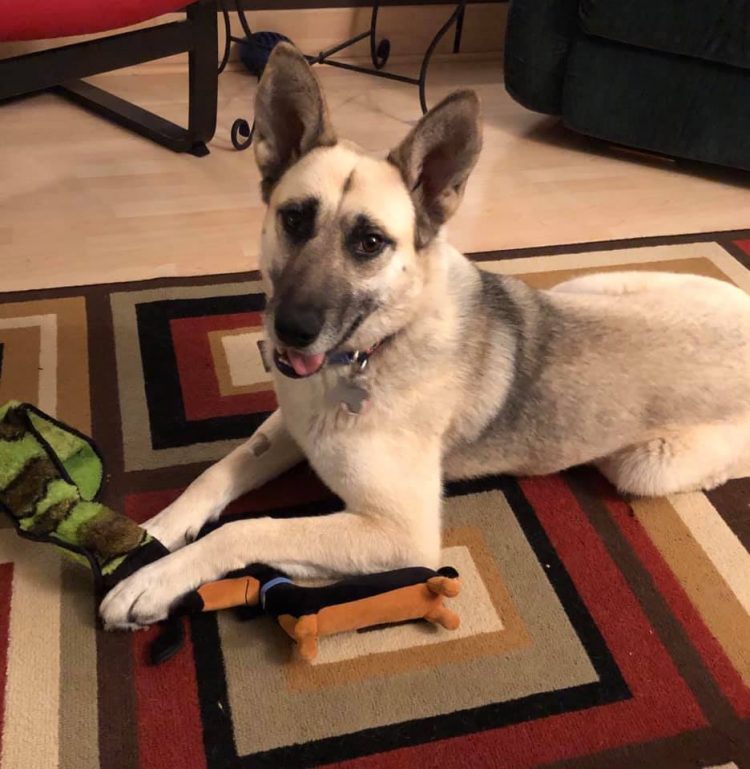 Hi. I'm Stan! I am a playful pup who loves to cuddle and take long naps.
Do you like to play….me too, I have recently learned that toys are lots of fun to pounce on and chase!
Do you like to go for walks….me too, and I walk oh so politely on leash! I also am very inquisitive when we meet people/dogs on our walks… foster mom has to remind me not everyone wants to pet or play with me….I just love people so much!
Do you like to go for car rides….me too, I love going in the car and behave oh so well!
Do you like to take naps….me too, I can often be found lazing around the house, my foster family often calls me Flat Stanley!
Do you like to give belly rubs….cause boy do I like to receive them, and will often nudge you a little to get more!
Would you like to have a companion in your life….me too, I really don't like to be left home alone for long periods of time, but I am working hard on this with my foster family and I'm improving every day.
Friends….me too, you could be my friend or another canine would be awesome, but please no cats they are way too interesting to me! I also love kids so that wouldn't be a problem for me!
I sleep throughout the night on the floor next to foster Mom and Dad. I am fully housetrained but I really don't like small spaces so a crate is not for me.
I am a wonderful boy with a goofy personality who would love to make you laugh. Take a chance on me I know you won't be disappointed… Is there room for me in your family?