Age: 4 months (2019-09-30) | Sex: Female
Breed: Mixed | Size: L (50-80 lbs)
Mutt-O-Meter: GREEN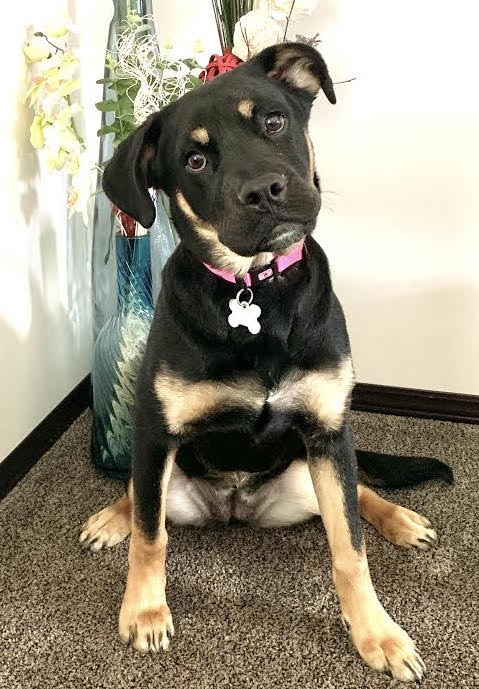 Hi. I'm Joplin! I'm an active, fun girl who loves people and wants to be by your side all the time!
I am housetrained but I'm still young, so I can't hold it for as long as an adult. I am working very hard on my crate training. I am very good in the kennel at night, sometimes I let a cry or two out, but I can NOT handle it if you leave the house! I have a little bit of separation anxiety. My foster mom and I are working very hard with this using lots of positive reinforcement, so lots of yummy treats! I think I would benefit and very much love to have a confident doggie sibling to help me feel more safe, and of course play with me, I love to play! I love my canine foster brother so much, it helps my anxiety when he is with me. He is also teaching me a lot, mostly that not everything is scary.
I'm a little timid of new things, so my foster mom has been working on some confidence boosting, socialization and basic manners. So far I have learned, sit, down, shake a paw, spin and rollover. I am good with dogs and people. I am learning how to behave around cats, I want to play with them so bad but I need to remember that they don't always want my company. I have never met any kids, but I'm sure I would like them very much, except sometimes when I get really really excited I just can't help myself and I jump. I like going for walks but I need some manners on the leash, I'm just happy to get going!
I am a goofy and fun girl who would love to go to the park with you and make you laugh!
Will you take a Chance on me?