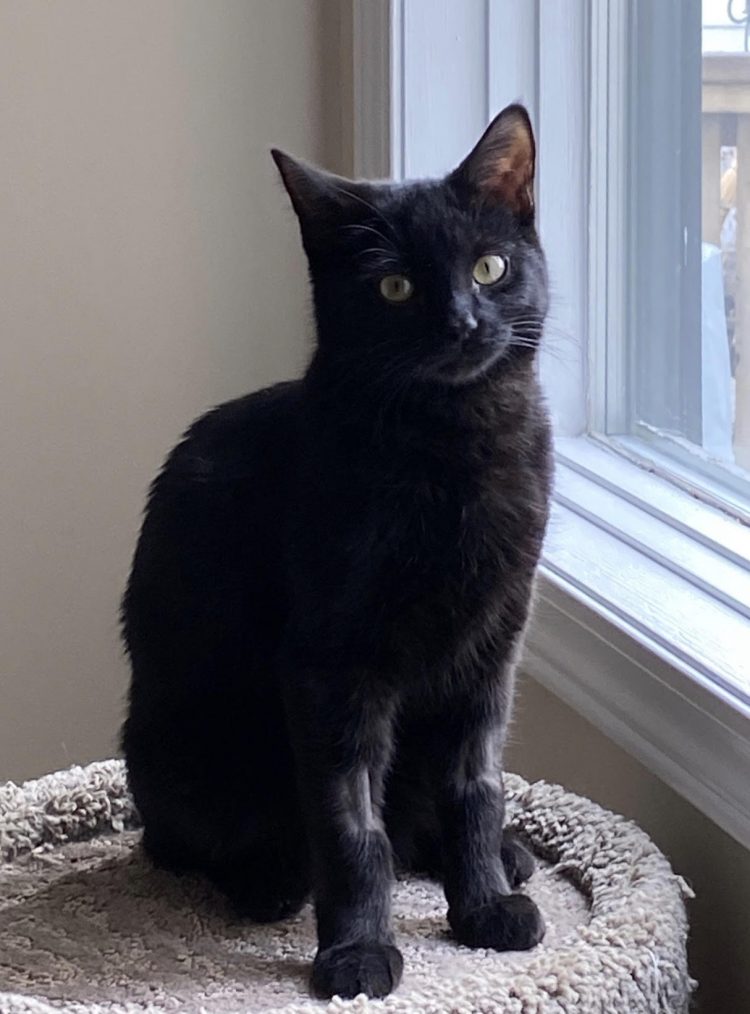 Age: 5 months (2019-10-01) | Sex: Female
Breed: DSH | Size: S (0-30lbs)
Mutt-O-Meter: GREEN 
Hi I'm Imogen, but my foster family calls me Imo.
I'm a sweet, beautiful, outgoing little girl that LOVES playing and cuddling with my foster brothers and sister and watching out the window to see what those crazy neighborhood squirrels and the birds are up to. My foster parents tell me I am gorgeous, all black, including my whiskers!
I always use the litter box, and I only use the scratching post, my foster mom is never worried about the furniture in the house. I don't use my nails or bite when I play with my foster mom or dad, and when some little people came over, I was really good with them too, even when they were getting pretty loud with this crying thing they do.
I haven't met a dog yet, other than the one I can see out the window at the neighbors house, but think I will like them. I LOVE to play with those balls that have the bells in them…. I don't know what it is about them, but I could chase them all day.
My other favorite thing is wrestling with my two feline foster brothers, we can put on quite the show! I am a bit of a talker too…. I like to chirp and let you know I'm around. My foster parents think it's hilarious and adorable. When I'm tired, I like to find one of my foster siblings and cuddle up with them for a nap.
I am a loving, affectionate little girl who would love to cuddle in bed in the morning with you, relax with you on the couch in the evening, and would love to be a part of your family. Is there room for me?