We have animals to vaccinate and feed and veterinary bills to pay. Running a rescue organization isn't cheap. We are so grateful to any donation made, whether it be monetary, food, toys, collars, leashes, other supplies or donating your time to our cause.
Manitoba Mutts Dog Rescue Inc. is a registered charity!
Registration Number: 812122711RR0001
Receipts will be given for donations of $20 (or new items valued at $20) or more starting from January 1, 2015. This includes brand new item donations such as supplies and food. Receipts will be sent out by email or mail as soon as our volunteers can, and by the time you need them for your tax return. Receipts are unable to be given for used supply donations, open food bags or merchandise purchases.
To receive an instant tax receipt, donate through Canada Helps 
Donate by E-Transfer
*Add a note to let us know if the funds are a donation or adoption fee with the Mutts name. If donating $20 or more, include a mailing address and email so we can provide a tax receipt. If your financial institution requires a security question, remember to send the answer to the same email.
Donate by Paypal
(Or pay an adoption fee)
Donate by Mail
mail cheques payable to:
Manitoba Mutts Dog Rescue
P.O. Box 34040
Winnipeg, MB R3T 5T5
If you are sending a donation in memoriam or celebration, please remember to include the the mailing address of the recipient with your donation.
Silent Auction prizes – New and Gently Used Items (always accepted)
We host a handful of large annual events to help offset the cost of running a rescue, and we are always in need of donations for our silent auction fundraisers. Have something to donate? You could be eligible for a tax receipt for any brand new item with an accompanying receipt, and priced at $20.00 or over. Gently used items go to our Manitoba Mutts Flea(less) Market to help raise money throughout the year. Please email [email protected] with any questions.
Mutts Wish List
We have an Amazon Wish List!
Other suggestions:
-High value puppy food: Performatrin, Go, Orijen, NOW, Kirkland, etc.
-High value treats.
-Crates: new or used.
-X-pens: new or used.
-Cleaning supplies: bleach, lysol wipes, paper towel.
-Newspaper or Puppy Pads (no flyers please)
-Kongs, Antlers, Nylabones, etc for tough chewers.
Are you thinking of something to do in honour of someone special?
In Memoriam
A donation in memory of a cherished companion, family member or friend is a meaningful way for you to express your sympathy. An in Memoriam donation will go towards the many needs of the animals in our care, such as veterinary care, food, leashes and other necessary items.
Manitoba Mutts Dog Rescue will send the bereaved family a special In Memoriam card, acknowledging your donation. The card identifies the donor and will include a message of sympathy. Please be sure to include the mailing address for the bereaved family with your donation.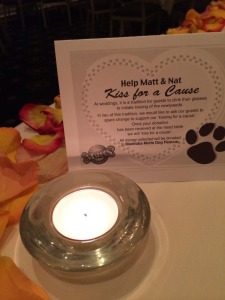 In Celebration
Is a friend or family member celebrating something special? Looking for that perfect gift for that special someone or a unique gift for that hard to buy for person? Why not consider a donation to Manitoba Mutts Dog Rescue as a way to commemorate any special occasion:
• Birthday
• Wedding
• Shower
• Graduation
• Any Other Occasion
Your donation will help Manitoba Mutts Dog Rescue continue to save animals across Manitoba. Manitoba Mutts will send the individual a special card acknowledging your donation. Or if you prefer we can send you a special card insert electronically, that you can include with your card or gift. Please be sure to include the mailing or email address for the recipient with your donation.
Email: [email protected] for more information.