Age: 7 weeks (2020-02-02) | Sex: Male
Breed: Mixed | Size: M (30-50 lbs)
Mutt-O-Meter: GREEN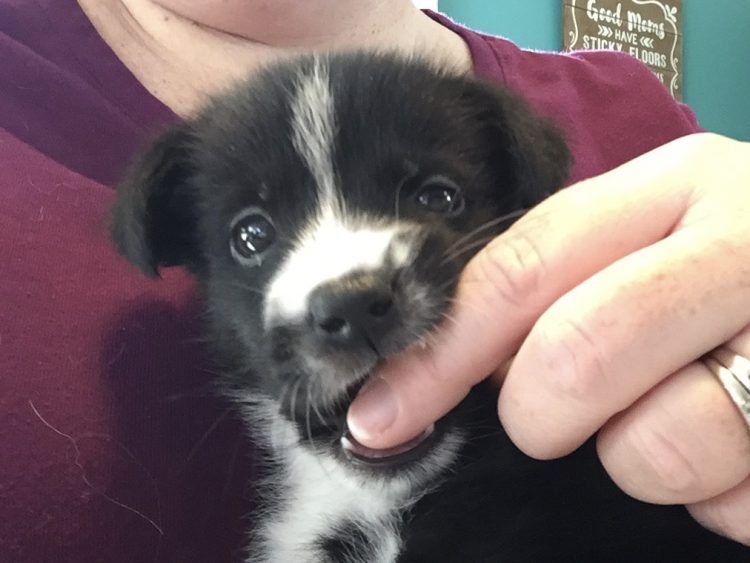 Hello there! My name is Gaxton and I'm from the Onward Litter. I'm a brave little guy who, from the moment I got to my foster house decided to take on the giant penguin stuffy which was twice as big as me. I am happy to report that I took care of that penguin and he won't be bothering me again!
I live my with sister, Avel, two cats, a giant dog and a human foster brother who is 8.
Like I said before, I'm a brave guy and nothing really scares me. I'm interested in the cats, but they ignore me so I leave them alone, the giant dog is scared of me and my sister! Haha! I try every day to get him to play but, nope.
I love my humans and when I'm not trying to bite their toes and hands, I just want to cuddle.But because I'm so young and my teeth are growing I love to chew on fingers and toes!!! My foster family doesn't like when I do that so they find me a toy or something fun to chew on.
I'm way too small to go for walks but I have been outside and I found it very intriguing. I can't wait until I can explore even further.
I will be totally honest and say I'm not the best at potty training. I make it to the pee pads 50% of the time. But I'm still a pup and I know I'm going to master this pee pad thing.
I've been on a long 2 hour car ride and did great. Just had to stop for one pee break.
I've been sleeping in a kennel with my sister, and lately we've been sleeping through the night, but some nights we are up a couple times. But we just need to pee or poop and then we go back to sleep.
I'm going to make a fantastic addition to someone's family, will it be yours?
*ADOPTION MEETINGS are postponed until further notice, but apply now to make sure you get a chance to meet me later! "Anything worth having is worth waiting for!"