APODTION PENDING**
Age: 7 weeks (2020-02-02) | Sex: Male
Breed: Mixed | Size: M (30-50 lbs)
Mutt-O-Meter: GREEN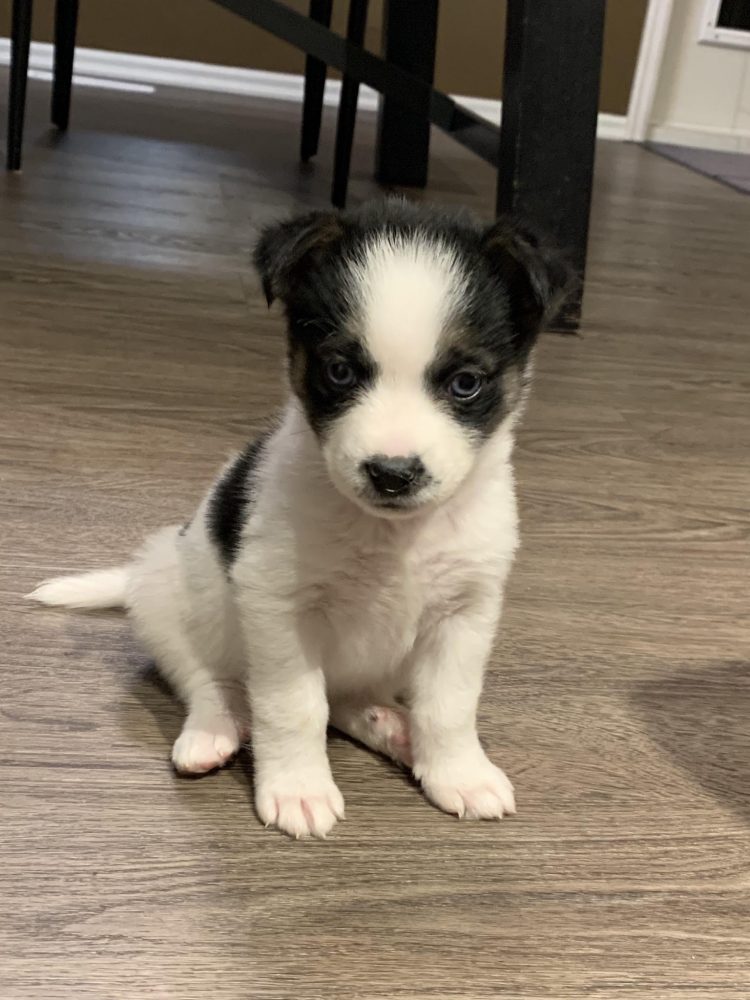 Hi, I'm Wilden from the Onward litter. I am a sweet and energetic little boy. I currently live with my brother and 2 big dogs in my foster home. My mom had 10 puppies but could no longer take care of us so we now have a human foster mom. We are now eating regular puppy kibble and just thriving!
I love being held and making a little nest in your lap. I love to run and play, but also enjoy the comfort of your lap! I have learned to play with toys and bones and love chasing balls!
You will have to keep a close eye on me and put up baby gates or keep me safe in a kennel or xpen when you can't watch my every move. I also have learned to entertain myself quite well. I am teething still so I may nip at your toes when I am over excited, but I am easily re-directed with chew toys.
I currently sleep in an Xpen with my brother and like the safety of my little bed. I use newspaper really well to do my business – I do miss sometimes. I just started adventuring outside on the deck but it will take more practice to get used to it. I am not quite 3 pounds so mom doesn't want me to get a chill. I am good with the older dogs in the house. I find them fascinating and like to follow them around but I'm so gentle. Socializing with other dogs regularly will be so important! I haven't been for walks yet as I need more vaccines first.
Are you the family for me? Will you walk me every day when I'm a bit older? Will you take me to the park? Take me for car rides? Cuddle me? Let me play with other dogs and maybe even kitties? Will you forgive me when I pee on your bed? Will you love me forever?
**Adoption meetings are postponed until further notice, but apply now to make sure you get a chance to meet me later! "Anything worth having is worth waiting for!"