Age: 11 weeks (2019-08-29) | Sex: Female
Breed: Mixed | Size: L (50-80 lbs)
Mutt-O-Meter: GREEN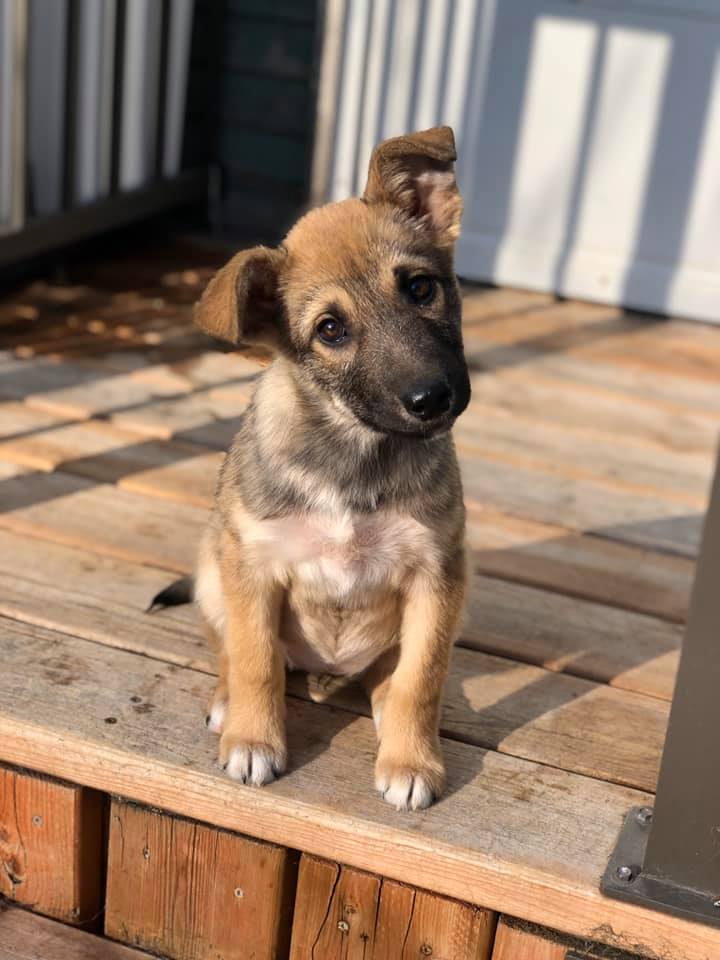 Hi there, I'm Thai! I'm an easy going, fun little girl who loves to play with toys. In fact I'm an expert at emptying every toy box I can find in my foster home to the point that sometimes we can hardly see the carpet for all the toys I spread around! I also love to run around and play in the snow!
I've been working really hard on my house training and I'm almost 100%- Just an occasional piddle when foster mom doesn't catch me in time. When my foster family is at work during the day I always use the pee pad in the large crate I spend the day in. I'm great in my crate and settle very quickly. I do need a pee break during the night though or a spot where you can leave a pee pad for me to use.
I really love the other dogs in my foster home and play very well with them! I haven't met cats or children however I know I'll be wonderful with both as I'm a very gentle puppy. Don't get me wrong, I do have the occasional nippy spell but I'm very easy to re-direct to one of the many toys I have strewn across the floor!
Walks and the leash are something we'll need to learn together. I haven't had any experience with either since my vaccines aren't up to date so I need to stay within the safety of my back yard.
I'm a super sweet pup looking for a family to snuggle with, play with and entertain with my commando crawl moves when I'm trying to fly under the radar and grab a toy from a furry friend. When I first came into rescue I had a bad case of the itchies and was limping on my left front leg. The vets can't say why I was so itchy or limping but I'm happy to say with a couple weeks of good food and a lot of love from my foster family my itchies and limp are both pretty much gone!
Curious to know more about me? There's only one way to find out and that's to come and meet me and find out if I'm the piece of your family you've been missing!