Age: 3 months (2019-01-16) | Sex: Female
Breed: Mixed | Size: L (50- 80lbs)
Mutt-O-Meter: GREEN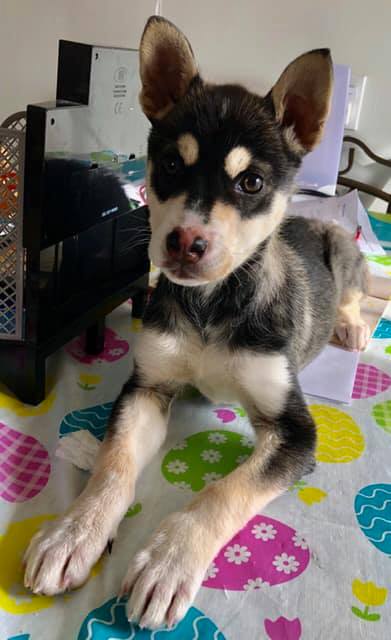 Hi there everyone, my name is Smoochie, or you can call me Smooch or Schmoo.
I'm an energetic little girl who has discovered that living indoors is awesome! It didn't take me long to figure out that the thing called a "couch" is pretty darn comfy. I'm living with two cats, which I like, but they don't feel the same about me unfortunately. Also a very big dog who I love and he's the best playmate. He definitely has a lot of patience with me. I like to jump on him and chew on his ears, and my newest trick, barking at him to get his attention. You know, the normal crazy puppy stuff. There are children here and I love trying to get them to play with me. However, I'm a bit rambunctious sometimes because I'm a puppy so I play a little ruff and like to nip and jump. My foster family tries to redirect me by giving me a toy to play with or taking me outside to burn off some energy.
I am learning to walk on a leash but I like to pull because there are so many new things I want to see and smell! With more practice I'm going to be awesome though.
I get kennelled when during the day when my family goes out, and I sleep in my kennel at night like a perfect angel. I will bark a bit when you put me in, but quiet down soon.
I'm 99.9% potty trained, which i think is pretty great. I'm learning to use the bells to go out. I know how to sit, and learning to stay. I'm good in the car on long trips. I've been to Kenora and after about 15 minutes into the drive, I settled nicely in my kennel. I also have great recall. ( well most of the time)
I'm just a girl who has lots of energy and lots of love & kisses to give if you are willing to give me a chance at a new life. I would love to have another young dog to play with and continue to teach me manners. I promise I won't disappoint you.
Please come meet me in person and see how cute I am.