Age: 6 months (2018-08-15) | Sex: Male
Breed: Mixed | Size: S (0-30lbs)
Mutt-O-Meter: GREEN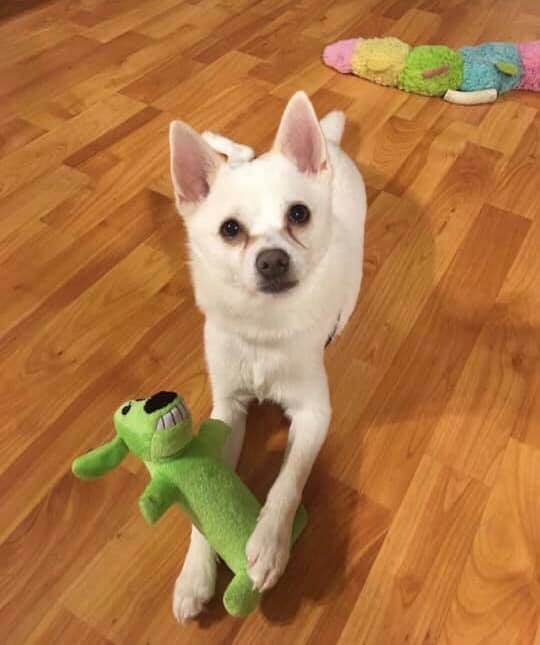 Hi! My name is Mylo! Am I not the cutest little dude?
I'm a friendly, sociable, excitable little boy and contrary to my breed, I do not BARK much; just at sudden unfamiliar sounds.
I'm great with cats and dogs, big or small. I love people and did great with the two toddlers I recently met but caution should always be taken anyways with all young children and with me as well being a tiny size, there may a risk of me getting hurt accidentally.
I have excellent recall. Call me! I will come running full speed. I'm pretty smart at learning new things but I just have to learn to curb my enthusiasm when you pull out those yummy treats. I'm not fully housetrained yet but getting better but if you are diligent at putting me out, all is good. You may not see me go to the door and I do have a tiny bladder. I settle well in my kennel at night but I would like it to be in your bedroom at night with you if that's ok with you. Sometimes I may whine to go potty but if you take me out just before bedtime, I am usually good until morning.
During the day, you can sometimes find me taking a nap in my foster brother's big kennel or laying around close to you, preferably in a sunbeam if there is one. I am not too bad on a leash but like most dogs, I could use some fine tuning.
Despite the cold weather, I love being outside. I like to run my high-speed zoomies around the yard, even through the deep snow and finding treasures in the yard and flipping them in the air.
Unlike my breed, I am not much of a lap or couch dog. I am just too excitable to settle down with all my licks and playful yet gentle nips which we are still working on. Sometimes I can be a bit jumpy but I am still working on that OFF command.Remember, I'm still a playful puppy in training and will get it right in time.
I would love to find a family willing to play my favorite games of fetch and tug-of-war with me and give me lots of love and attention and of course, be familiar with my breed as I may not be the dog of choice for some people.
Are you that family for me? I will offer you my loyalty and a life filled with lots of kisses!
NOTE: I am being fostered in Gimli!