Please donate towards the Get Fixed Manitoba initiative:
---
Thank you to our generous founding sponsors!
Dr. M. Sra of Southglen Animal Hospital and Cvets Pets.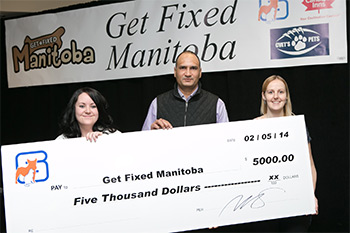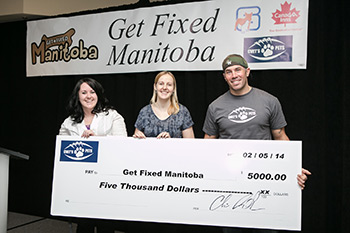 ---
FEBRUARY 5, 2014
FOR IMMEDIATE RELEASE
BOTH MAN AND BEST FRIEND BENEFIT WITH MANITOBA'S FIRST 'GET FIXED' INITIATIVE
WINNIPEG, MANITOBA – Manitoba Mutts Dog Rescue with the support of a small group of key donors and veterinarians are ready to launch, Get Fixed Manitoba, a remote spay and neuter temporary clinic program that travels to communities in Manitoba. This program is the first of its kind in Manitoba, but it's not a unique concept to other parts of Canada.
"The difference of Get Fixed Manitoba versus other spay and neuter programs in the province is that we follow a community volunteer based model that uses a 'temporary remote clinic'," says Mallory Fleming, Program Manager of Get Fixed Manitoba and Assistant Director at Manitoba Mutts Dog Rescue. "No money is paid to anyone as part of the program, 100% of the money goes to the program," Fleming adds.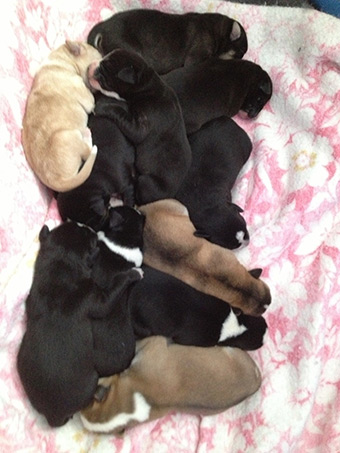 Founding supporters include volunteer veterinarian Dr. Alison Litchfield of Dakota Veterinary Hospital and key donors Dr. M. Sra of Southglen Animal Hospital and Cvets Pets. In its pilot year, Get Fixed Manitoba will be setting up in Norway House Community in April of 2014 with a goal of spay and/or neutering between 60-80 dogs over two days with a duo of veterinarians.
"Human health concerns and dog overpopulation problems are well known in many areas of Manitoba." states Rebecca Nordquist, Executive Director at Manitoba Mutts Dog Rescue. "It's a runaway train that's easy to start and extremely complicated to stop. The issue is a hot topic politically. Snap judgements and oversimplified solutions don't help solve the problem we have. Communities that sign up for this program are aware they need help. They deserve respect for taking the right steps."
The subsidized fee for each dog participating in Get Fixed Manitoba will average around $50. Funding to date covers some of the equipment and supplies needed as well as volunteer vetting teams that are donating their time and expertise. Ongoing costs to be fundraised to maintain the subsidized rate will be costs for travel, meals and accommodation for each trip into remote communities.
In addition to being spayed or neutered, each dog is vaccinated against rabies which mitigates health risks to the community and is tattooed to improve the provincial database records of dog population.
"Some estimate the stray dog population in Manitoba is 10,000 dogs," says Fleming. "Dog population growth is exponential. Fortunately this also means the immediate value and results of Get Fixed Manitoba are also exponential."
In its pilot year, if Get Fixed Manitoba reaches a goal of altering 250 dogs, with the assumption that half of those were females with conservative litters of six pups, the program will already curb dog population growth by approximately 750 or more dogs. This doesn't include how many fixed males are prevented from impregnating unspayed stray females.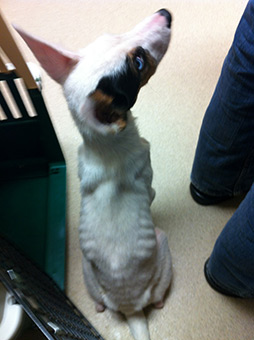 "Personally, I feel the veterinarians who are on board for the first initiative for Get Fixed Manitoba are everyday heroes. Their dedication to the welfare of animals is equal to their commitment to the communities they will be visiting" says Fleming. "It is the vets performing the surgeries that sign off the temporary clinic license, accept all responsibility for the welfare of the dogs while in the program and ensure the compliance with all bylaws put forward by the Manitoba Veterinary Medical Association," explains Fleming.
Accessibility of vetting care is a recognized problem and one of the root causes of overpopulation in remote Manitoba communities. The Manitoba Veterinary Medical Association (MVMA) has been working with Get Fixed Manitoba to bring the program to as many communities as possible. Unfortunately, there is a written rule regarding temporary clinics within a specific kilometer radius of city centres. The MVMA is in progress of making changes to guidelines to increase access to communities in Manitoba who are requesting the program.
The underlying goal of Get Fixed Manitoba is to reduce the population of unwanted dogs in Manitoba while building a safer community and province that becomes a leader in responsible pet ownership with controlled dog populations, and humane attitudes regarding the wellbeing of animals. Communities interested in participating in the program are encouraged to contact Get Fixed Manitoba's Program Manager Mallory Fleming by email [email protected]
Manitoba Mutts Dog Rescue was founded in January of 2011 and is a 100% foster-based non-profit dog rescue. They take in abandoned, abused, neglected dogs from across Manitoba. In three years they have rescued over 2000 dogs. On average there are between 60-80 dogs in care.
Media inquiries and photos are available upon request by contacting Colleen Holloway at [email protected]