Age: 1 year (2018-11-15) | Sex: Male
Breed: Mixed | Size: S (0-30lbs)
Mutt-O-Meter:
ORANGE (no kids under 14)
BLUE (no cats)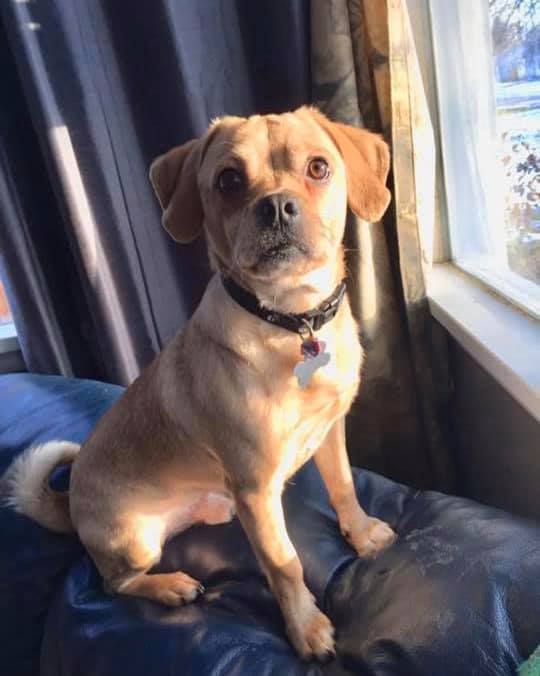 Hi, I'm Dorio!
Foster mum calls me Dorito (cause im a little spicy)! I'm an active boy who loves running, jumping, and exerting all of my energy!! Chew toys are the best (especially if the resident dog is chewing on them)! I am fully housetrained but I do like to mark my territory in new environments. But don't worry, I knock it off pretty quickly, I just forget my manners sometimes. I am officially fully crate trained and I am so proud of myself! I only go into my crate to sleep, and while foster mum is at work. I am GREAT with ­big dogs but I should not be in a home with cats. Recently, I have been going to daycare and play really well with all the dogs there. In my last foster home I was 'way too much' for the small resident dog! So, it's best I meet my potential dog sibling before you take me home to be sure it's a good healthy fit. I am good with children who are not small, as I like to topple over toddlers because they're more my size. I LOVE going for walks but need some practice on the leash.
I am a funny, energetic, adorable little dude who would love to snuggle with you, go to the park, and make you laugh (foster mum says i'm good at that). Is there room for me in your family for me? I've been looking for awhile now. Foster mum tells me I will find the right home soon enough. But if anyone comes to meet me, you will definitely fall in love with me and my underbite! I am one cutie patootie and I know it.