Age:

2 years, 3 months

(2020-12-25)

Sex: male
Breed: mixed
Size: large (50-80lbs)
Mutt-O-Meter:

No Children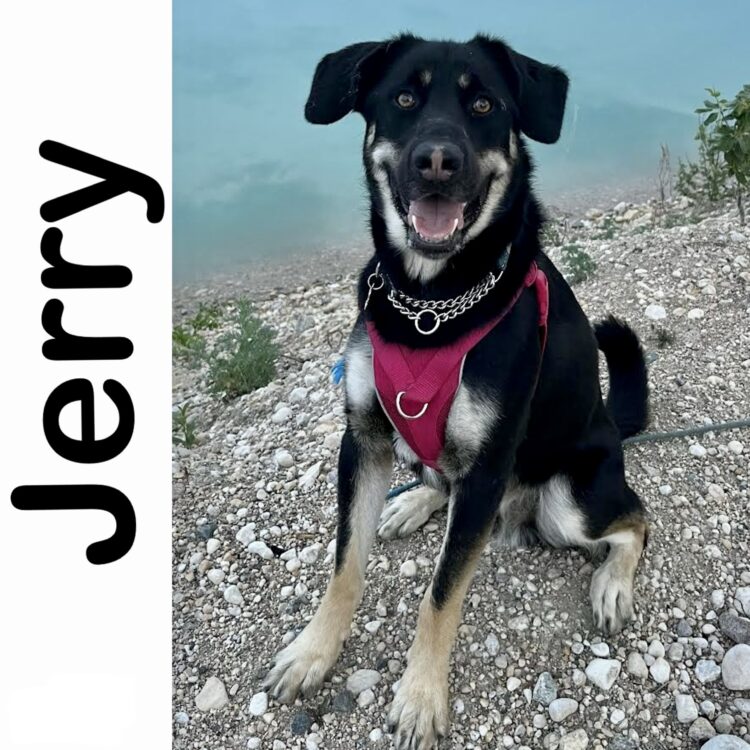 Jerry here!! 
I am what you call a covid canine. What's that you ask?
Like so many dogs, and people, the pandemic took a toll on this important thing called socialization. I'll explain.

I am an absolute gentleman in the house with my people. I am seriously the 'goodest' boy ever!! I sleep through the night in my humans room, I always do my business outside, I run into my kennel when it's time they go to work, I only chew on my toys and I love cuddles on the couch!

Now the explanation time.
I lacked socialization time as a puppy. This means I am very unsure when I see other people and doggies on my walks.
My humans know I will like them but at first, I don't come across that way and then people just see a big loud dog. 
I need an experienced and patient owner who understands that this scary thing of "new" takes time for me to handle.

I live with an older cat in my foster home that moves just the pace that works for me. Slow! Foster mom would suggest that any future cat-mate of mine be dog savvy. The run/chase game is a fun one! But I don't do anything other than lick them when I get to them!

I also should have a slow introduction to any dogs that I am to live with or have as friends. But once I am comfortable, I am very respectful and playful! Yes! I can be both! I do spend time at doggie day care and I do love it! I just need to remember my manners!!
One more thing! Children. I would ask for 10 years and older and who have previous experience with doggies. Honestly, I am unsure of the little ones and then I just don't know what to do!

I know I sound like a lot, but my 'goods' do out weigh the 'work', I just need patience and love. And boy, will I LOVE YOU BACK!!!!

Apply here: https://manitobamutts.org/how-to-adopt/online-adoption-application/or contact [email protected]