Age: 7 years (2012-02-13) | Sex: Female
Breed: Mixed | Size: XL (80lbs+)
Mutt-O-Meter: RED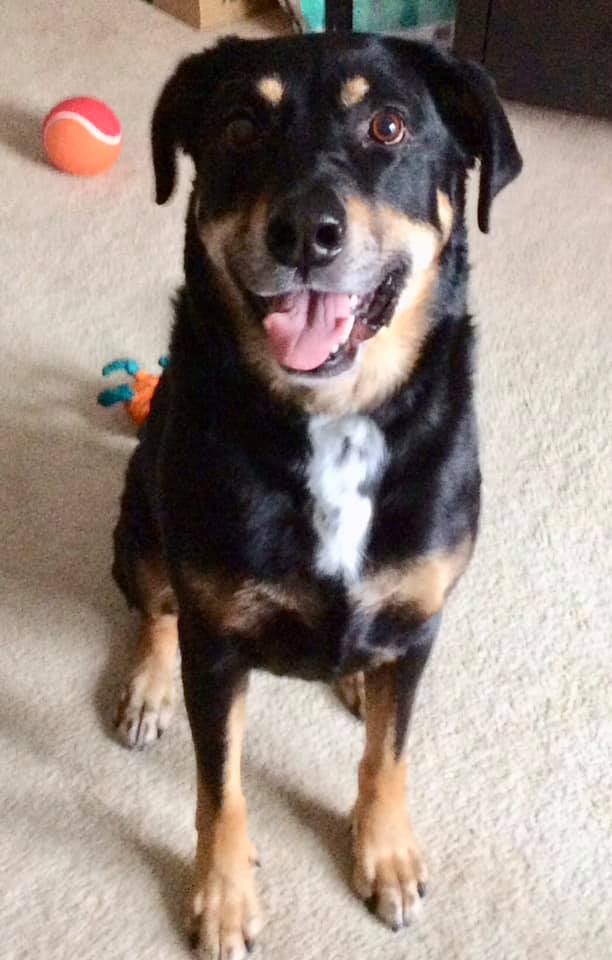 Hi, I'm Crystal! At just over 80 lbs, I am a pretty big girl, but full of love! I'm a sweet older girl who loves her humans, especially older children. I love my nap times, but I also do enjoy play time. Playing Frisbee, fetch, tug a war, catch and find it are among things I love to do. BUT my all-time fav thing is belly rubs.
I do ok with other dogs but I'm not into sharing any of my toys with them and can get quite protective of my toys, so it's best I don't go to a home with other dogs.
I am fully housetrained and kennel trained. Sometimes I let it be known that I prefer my humans to be at home instead of at work by being a bit vocal in my kennel, so I'm best suited for a house, not an apartment.
I LOVE going for walks and walk politely on a leash with a halti, but I can be reactive, giving me treats to distract me from the unknown can be helpful. I have many talents as I am a smart well trained girl. I know the basic commands, but I also am very good at wait, drop it, off, heel, shake a paw, find it, and catch, as well as balancing treats on my nose!
If you love to give belly rubs then I am sure we will make a great pair! I'm a well behaved girl who is in search of a loving home. Just come and meet me and I'll show you how talented and sweet I am!