Age: 2 years (2016-06-07) | Sex: Female
Breed: Mixed | Size: L (50- 80lbs)
Mutt-O-Meter: GREEN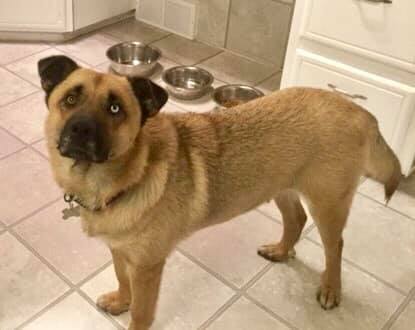 Hi. I'm Cinnamon. I am the mother of the very famous Lord of the Rings litter, who have all found their furever homes and now it is my turn!! I am an easy-going gentle girl, who loves to be petted and stroked but I am a little uncomfortable with full on hugs. So a home without small children would be best; however the little boy across the street comes to visit and I am very happy to see him.
Since I came in from the cold I have never done any damage or had a single accident in the house. Especially since foster mum and dad make sure I get plenty of walks and exercise. I have no idea what a crate or kennel is, my foster mum and dad don't think I need one as I am so well behaved when I am left alone. I used to roam free and live outside so I appreciate the freedom of the house when they are gone.
I have not met many dogs, so I am not sure if I am good with them or not. I also have not met a cat, but I do like to chase squirrels and rabbits. I walk well with my harness but sometimes I need a reminder not to pull (I forget that you cannot walk as fast as me).
Foster mum and dad said they have rarely seen a dog with such a nice temperament. Why don't you come and meet me, foster mum always has the kettle on!