Age: 1 year (2017-08-20) | Sex: Male
Breed: Mixed | Size: L (50-80lbs)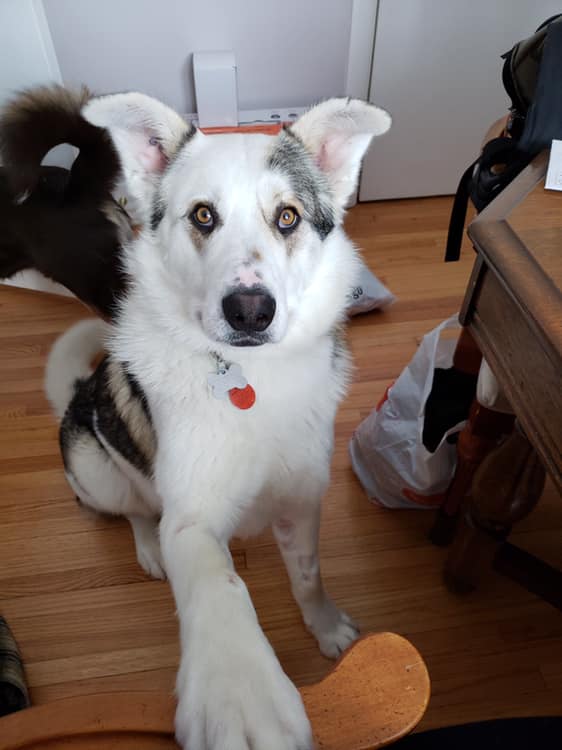 Hi, I'm Bishop! I'm a sweet and gentle boy who JUST WANTS TO LOVE YOU!!!
Whew, that felt good to get off my chest. You see, that's what I really want – a family that I can shower with my love.
I love hanging out with other dogs, too! I play with my foster sister and we share toys. I've never met a cat or children so I don't know how I would be with one but I'm a gentle soul so I would probably just try to love them, too! (My foster mom thinks that I wouldn't work well in a home with really small children as I am not very aware of my own size and weight.)
I am house-trained and very good on a leash. I absolutely love going for walks and naturally walk at a heel beside my person. The cold doesn't bother me so I'm ready for anything! I will spend the night in a kennel if you're in the house, but I tend to escape if my people aren't there. (What a smart boy I am!) I'm just fine when left alone, though, even for hours so foster mom doesn't bother kenneling me.
I do have one weakness: stairs. While I have no problem going up and down the stairs in and out of the house, I am a bit of a chicken when it comes to stairs inside the house. My foster mom and I are working on this. Wish me luck!
I'm just a fluffy, snuggly boy who wants a family to love, love, and love some more. Are you looking for a dog to keep you and your heart warm this winter? Look no further – come meet me today!