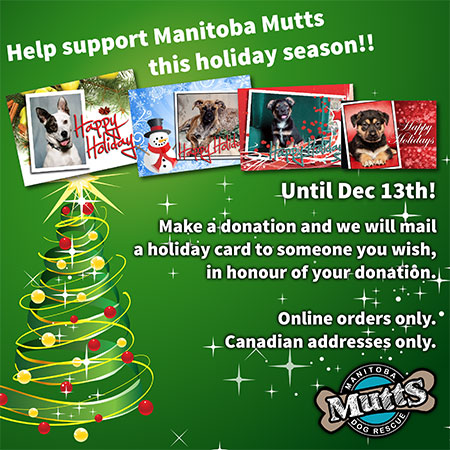 Help support Manitoba Mutts this holiday season!
Make a donation and we will mail a holiday card to someone you wish, in honour of your donation.
Note: Please enter the name(s) & address(es) of recipient(s) when making the donation on the second confirmation screen
:
Deadline for orders: December 13th, 2014
Online orders only. Canadian addresses only.
---

2015 CALENDARS featuring the stories of Manitoba Mutts Super Troopers from years past. Read their stories, see the before and after photos and be proud to be a supporter of Manitoba Mutts.
$2.60 shipping for the first calendar, $1.05 for each additional calendar.
---
OR pick one up at any of the following locations:
Keystone Kips 43 Maynard close, Wpg, R2P 0C2
Brandon Animal Clinic 2015-A Brandon Ave, Brandon, MB R7B 4E5
Stonewall Vet – 4 Dolomite Ave., Stonewall, R0C 2Z0
Waldenway – 33161 PR 210 W, Ste. Anne, MB
Southglen Vet – 730 St Anne's Rd, Winnipeg, MB
Floral fix – 1765 Kenaston Blvd, Winnipeg, MB
Pet Valu – Henderson Highway
Casera Credit Union – 1300 Plessis Road, Winnipeg, MB R2C 2Y6
Casera Credit Union – 720 St. Anne's Road Winnipeg, MB R2N 0A2
Casera Credit Union – 8 – 630 Kildare Ave East, Winnipeg, MB R2C 0P8
McLeod Vet – 880 McLeod Ave, Winnipeg, MB
Pelo Loco Salon – 250 Panet Rd, Winnipeg, MB
Selkirk Vet – 6 Wersch St, Selkirk, MB
Hudson Reykdal Veterinary Services – Box 10 Ashern, Manitoba, Canada
Blossoms – 577 Academy Rd. Winnipeg, MB
Dakota Vet – 1026 St Mary's Rd, Winnipeg, MB
Pawstruck Pet Nutrition – 827 Dakota St #2, Winnipeg, MB R2M 4Z2
Best West Pet Foods – 1625 Henderson Hwy.Winnipeg, MB R2G 1M8
---
Manitoba Mutts Dog Rescue Hoodies and Sweat Pants – Now available to the public!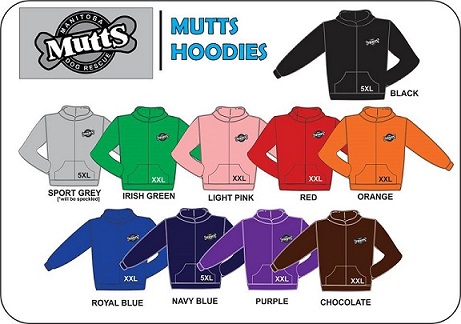 IN STOCK:
Hoodies $50.00:
Purple- Size M, XXL
Black- Sizes S, M, L, XL, XXL
To order yours and arrange pickup email merch@manitobamutts.org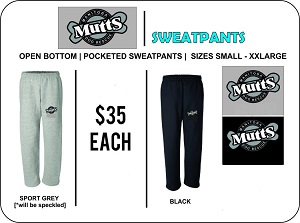 IN STOCK:
Sweatpants $35.00:
Grey- Sizes S, M, L, XL
Black- Sizes S, M, L, XL, XXL
To order yours and arrange pickup email merch@manitobamutts.org
---
Manitoba Mutts Coffee Mugs – $10
To order yours email: merch@manitobamutts.org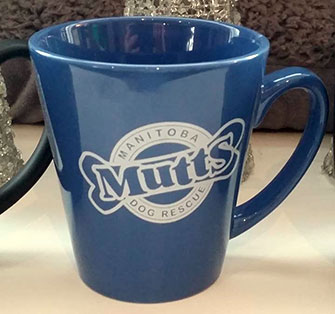 ---
Manitoba Mutts Travel Mugs – $15
Available in: Black, Purple, Blue, Green, Orange & Red. To order yours email: merch@manitobamutts.org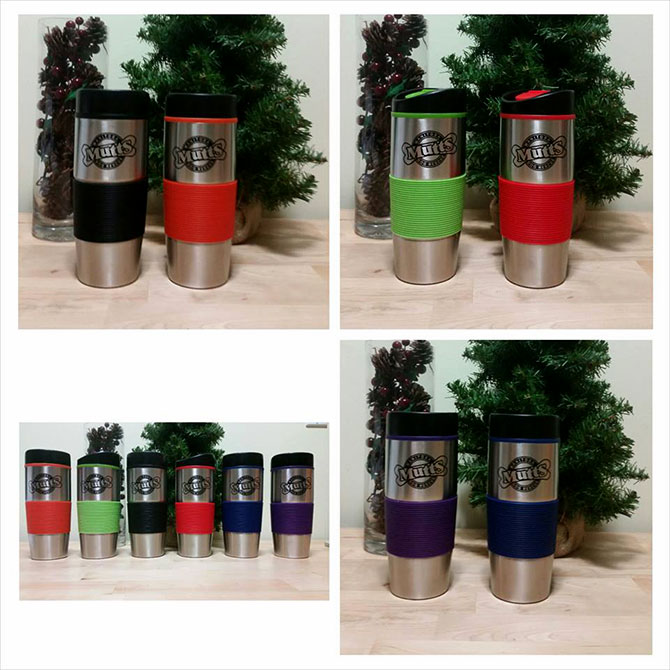 ---
Bumper Magnets $3 To order yours email: merch@manitobamutts.org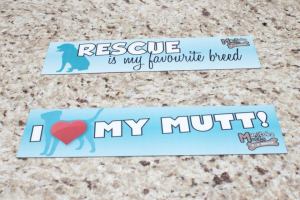 ---
Drink tumblers $10 To order yours email: merch@manitobamutts.org