Bobby
Age: 4 years (04-25-2012) | Sex: Male
Breed: Mixed | Size: Large (5080 lbs)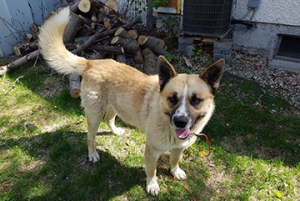 Hi! I'm Bobby, but my friends just call me Bob. I'm a happy, gentle giant who absolutely loves people and getting pets – you can tell you've really hit the sweet spot when my tail starts wagging in full circles! Foster mom calls it my helicopter tail. I am fully housetrained and almost completely kennel-trained. Sometimes I need to be convinced to go in my kennel, but once I'm in, I'm calm and quiet. I'm starting to figure out that the kennel is my safe spot, though, and now when I've decided it's bedtime I sometimes just go sit in my kennel and wait for foster mom to come tuck me in. I am good with cats and kids, and I like playing with doggie friends once we've had a proper introduction. I just love going for walks, but I'm still learning my leash manners. I'm working on loose-leash walking, and I'm getting better at it every day! I'm also working on my manners and obedience in general, and foster mom says that I'm making great progress. I already know how to sit, my recall is improving, and I've started working on 'down', 'off', 'leave it' and 'stay'!
I am a goofy guy guaranteed to make you laugh with my silly antics. I'm sweet, affectionate and so full of love! Can I be your new best friend?
Visit www.manitobamutts.org or contact adopt@manitobamutts.org for more information.